Sipping wine by the fire as you stargaze is just one of many romantic activities that you can revel in when you spend a weekend on a romantic cabin getaway in Colorado. Our state boasts plentiful outdoor activities that are fun, memorable, and quite romantic.
If you're looking to plan a weekend that you and your loved one will never forget, include some of the following activities to ignite the romance.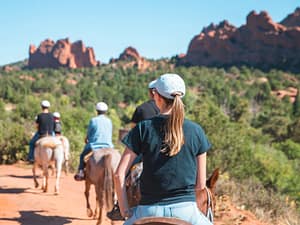 Colorado was once part of the Wild West, where cowboys worked on ranches and local saloons were where the fun was had. Now most of us have to search out experiences that bring us back to these early days in the state, and one of the best ways to do this is through horseback riding. There are great family companies located across the state that offer private horseback riding trips for couples wanting to get outdoors and feel the breeze on their skin. There is something majestic and beautiful about horseback riding, especially when done across the backdrop of the picturesque Colorado mountains.
Take a Romantic Train Ride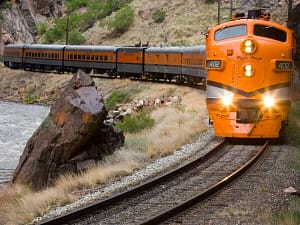 One of the most beautiful train rides in the United States is found in Colorado. Hop aboard the Royal Gorge Route Railroad any day of the week and experience a bit of history. This railroad has been around for well over a century, and now guests can enjoy exquisite food made on board made from locally sourced food. On select weekend nights there are murder mystery dinner shows so you and your loved one can play some whodunnit while the train carves its way through canyons and along the rushing Arkansas river.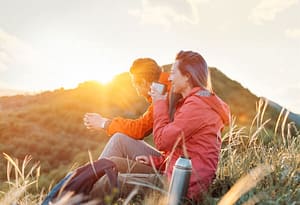 Maybe I'm a sucker for cliche romance, but who can blame me? One of my favorite things to surprise my significant other with is a romantic picnic—basket, blanket, and all. Include your favorite wine or local brew with tasty treats like finger sandwiches, cheese and crackers, and truffles. All you need is to find a local park or hike where you can have your own space underneath towering pines or colorful Aspen to unwind, relax, and eat up.
Few people think of Colorado when they think of wineries, but you don't have to travel to Napa to spend a day at a winery. While we might not be the first region of the country that comes to mind for growing grapes, that hasn't stopped local wine aficionados and artisans from bringing the art of winemaking to our beautiful state. 
Spend an afternoon visiting our favorite, the Winery at Holy Cross Abbey, located in Canon City. This winery has a lovely tasting room where you can try an array of wines, including those barrel aged in traditional French wine barrels. Once you've found your favorite, buy a bottle or two to take home and celebrate future romantic evenings. That is, if they make it through the weekend untouched!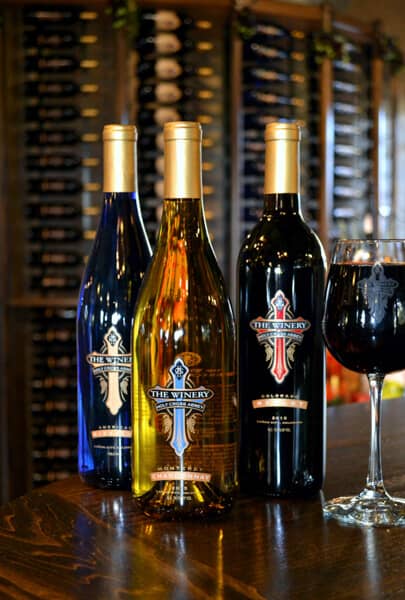 Find Lookouts for Sunrise and Sunset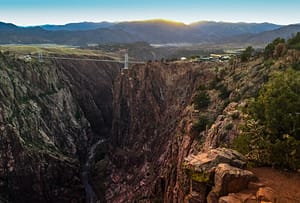 Whether you're night owls or early birds, you can find lookouts throughout the Rocky Mountains and the Sangre de Cristo Mountains that offer panoramic views of sunrise and sunset. One of our favorites is at the Royal Gorge Bridge and Park. Take the gondola across the Gorge itself and enjoy 360 degree canyon views above the highest suspension bridge in North America. Or, if you're looking for somewhere more private, ask locals or those who you're renting from to find a spot that you can enjoy just the two of you.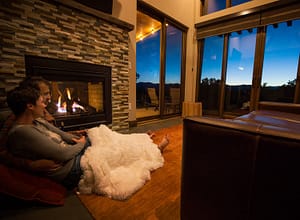 After a day spent exploring, wind down by spending some time cuddling by the fireplace. Even during the summer months, temperatures drop at night making most every evening of the year a good evening for a fire. At Royal Gorge Cabins, each of our luxury romantic cabins is equipped with an indoor-outdoor fireplace, allowing you to snuggle inside on the comfy couch or outside as you gaze up at the night sky.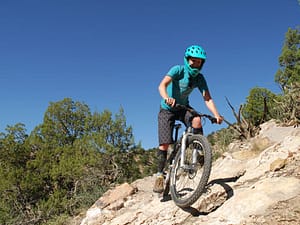 Whether you're hikers, mountain bikers, or both, there are thousands of miles of trails to explore weaving up and down the Colorado mountains. If you leave early you miss the big crowds, allowing you some one-on-one time with birds singing one another songs and breezes awakening the sounds of the flora all around you. Or you can time your hike to arrive at an outlook at sunset and find a spot to sit in one another's arms as the sky is painted by clouds.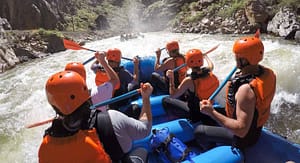 There are stretches of river snaking through our state ideal for a variety of water sports. You can try tubing in places with calm water or kayaking or river rafting on stretches that are a bit more intense. If you and your partner love the thrill of adrenaline, get out for a whitewater adventure that you won't soon forget.
We are fortunate to have natural mineral hot springs throughout much of our state. One of our favorite hot springs spots is the Mount Princeton Hot Springs Resort located near Buena Vista. There are multiple pools of different temperatures to soak in, or you can make your own little spot along the river where warm water feeds into it. Build your own private hot springs as the creek rushes by. 
Once you've finished soaking in the mineral baths, why not indulge yourself with a spa day. Enjoy a hot stone massage or a facial to help you find total relaxation before heading back to your private luxury cabin.
Make Your Romantic Cabin Weekend Unforgettable
When you and your lover have the chance to escape to the Colorado mountains for a luxury cabin vacation, make the most of it! Whether you're into adventure or simply romantic one-on-one time, there are many fun possibilities right at your fingertips. And don't forget to check with locals or those who you're renting from to find hidden treasures that you might not find online.