We often get calls from people wanting to understand a bit more about glamping. They wonder what it is and how it's different from camping. We've put together a quick FAQ with the questions that we're commonly asked to help you understand the difference between traditional camping and glamorous camping.
To understand glamping, first it's important to have a good grip on what, exactly, defines camping. According to Cambridge Dictionary, camping is "the act of staying and sleeping in an outside area for one or more days and nights, usually in a tent." 
Traditional camping, or real camping, is when you go out and set up your own shelter as you stay overnight on a campground or in the wilderness. Some people will classify RVs and campers as camping, but traditional camping is you, your tent, and nature.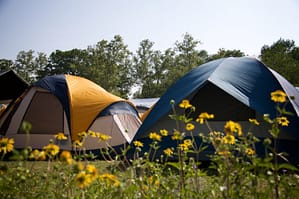 When you go camping, you bring everything with you. You want a sleeping pad? A pillow? Clean water? You will need to haul all of those necessities along with you. You will even sometimes need to build your own fire pit, and you will nearly always need to bring your own firewood or do a bit of gathering in the woods. 
Real camping is roughing it in nature. Of course, the nicer your equipment and the more you bring with you, the comfier your stay is likely to be. People love camping because it allows them to truly be at one with nature. Plus, it's an inexpensive way to take a vacation to a new spot.
What Is Glamping and Is It Better Than Normal Camping?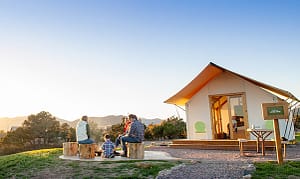 Glamping is glamorous camping. What this means is that it's similar to camping, but a bit more luxurious. Glampsites are something you rent, similarly to how you book a room at a hotel or a cabin in the mountains. 
With glamping sites, your living accommodation is already set up and waiting for you. There are many different types of glamping structures, such as: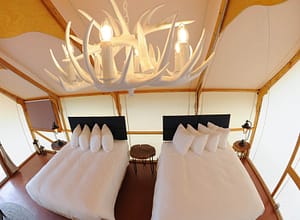 Glamping tents

Teepees

RVs

Campers

Yurts

Cubes, domes, and pods
Additionally, glampsites offer a variety of amenities. Most glampsites include things like comfortable beds, a bathroom and shower (sometimes shared, sometimes with hot water), and linens. When you get into luxury glamping, you can even find things like electricity, wifi, hot tubs, heating and cooling, and more. Every glampground is different, so be sure that you check to see what the glampsites you're considering offer.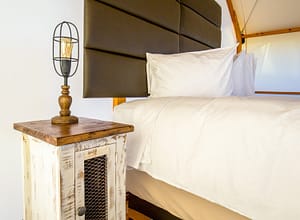 So, is glamping better than camping? That is all a matter of opinion! If you're someone who prefers the do-it-yourself, roughing-it-in-nature kind of deal, camping might be your cup of tea. But if you're wanting something easier and more comfortable, glamping is the way to go.
What Makes a Good Glamping Experience?
Every person has a different idea as to what would make their ideal glamping experience. In our experience, you want to consider these things:
What Are the Glampsites's Ratings?

Reviews on Google and Trip Advisor can be helpful so that you know what to expect. Read some positive reviews, some negative reviews, and some recent reviews to get a good idea of what's in store. Proceed with caution if there are a ton of negative reviews.

What Do You Want From a Glampsite?

Are you looking for a primitive shelter that you just don't have to set up yourself? Or are you looking for the epitome of luxury that maximizes your comfort and your access to nature? Pick a glamping spot that provides the experience that you're looking for. 

Where Is the Glampsite Located?

Location is one of the top things you should consider when you're choosing where to go glamping. Do you want to be near a city or town or far from people? Are there activities that you'd like to do? If so, be sure to find a site that fits your specifications. 
Doing your due diligence beforehand can help you ensure that you've picked a quality glampsite in a location that meets your needs. Every person is different, so be sure to find what fits your desires!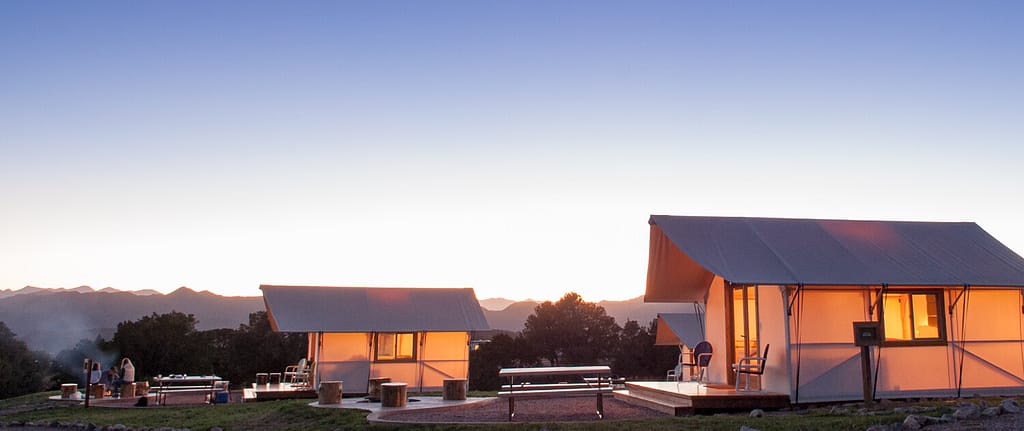 How Do You Turn Camping Into Glamping?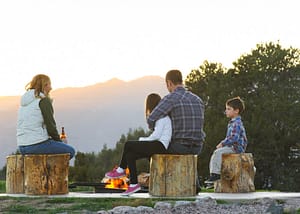 It is possible to make your own luxury camping experience. To do so, it will take some work and investment in fun gadgets and camping gear that can make your camping experiences glamorous, and therefore, glamping experiences. Beyond the Tent shares its favorite camping accessories that can make your next camping trip more enjoyable.
Should I Give Glamping a Try?
Glamping is spreading across the nation. You can find glampsites along the coast and deep in the forest, near glitzy mountain towns and on vast ranches. If you enjoy nature and want to experience it glamorously, glamping might be just what you're looking for.