Open your double french doors and take in the spectacular mountain ranges. Our luxury glamping tents have all of the conveniences you need to make your glamorous camping experience romantic and enjoyable.
Our romantic glamping tents are a great option for honeymoon glamping, glamping couples retreats, or just a romantic glamping weekend.
Each tent comes with an evaporative cooler for summer cooling, a pillowtop queen mattress, power outlets, WiFi, and a private deck with fire pit perfect for cooking up delicious meals. Be aware there is no heater in this glamping tent! 
Plus, you'll be in close proximity to our clean bath house. Your couples glamping getaway won't be exactly roughing it, but that's what luxury camping is all about.
Single Queen Glamping Tent
Single queen glampng tent pricing and availability
Our luxury camping tents are seasonal, with availability from May through September. Be sure to book in advance as our romantic glamping options book far in advance, especially during peak season. Prices and minimum night stays vary depending on time of season and day of week.
What you'll love about our glamping tents
Our single queen glamping tents offer the perfect romantic Colorado getaway for two.
Walk through your double French doors into a picturesque tent with a warm rug lining the floor, a faux antler chandelier, and beautiful wood floors.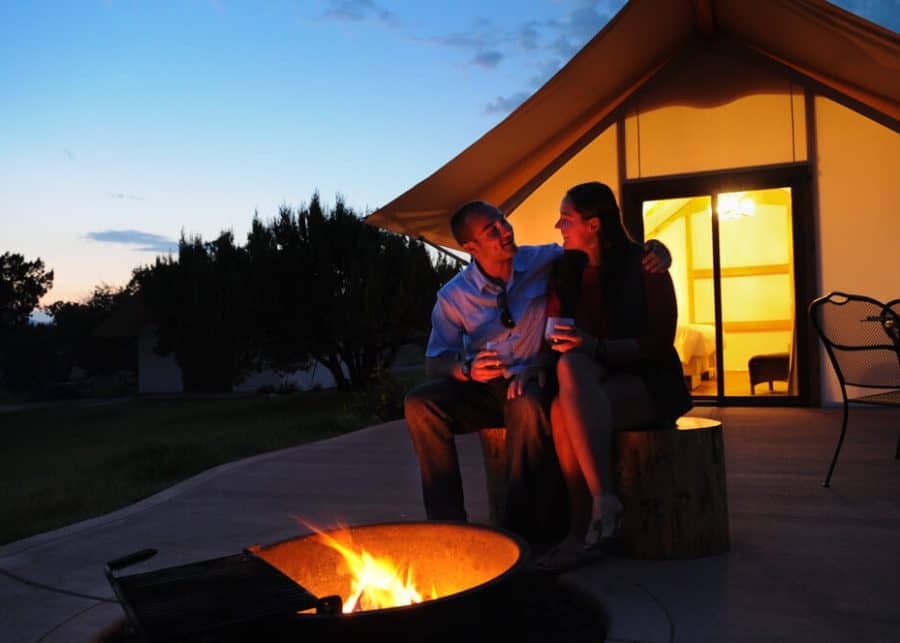 If you have a special occasion that would like to celebrate glamping, let us know! We can help you plan the best glamping honeymoon or retreat with activities and must-see attractions that you'll remember for years to come.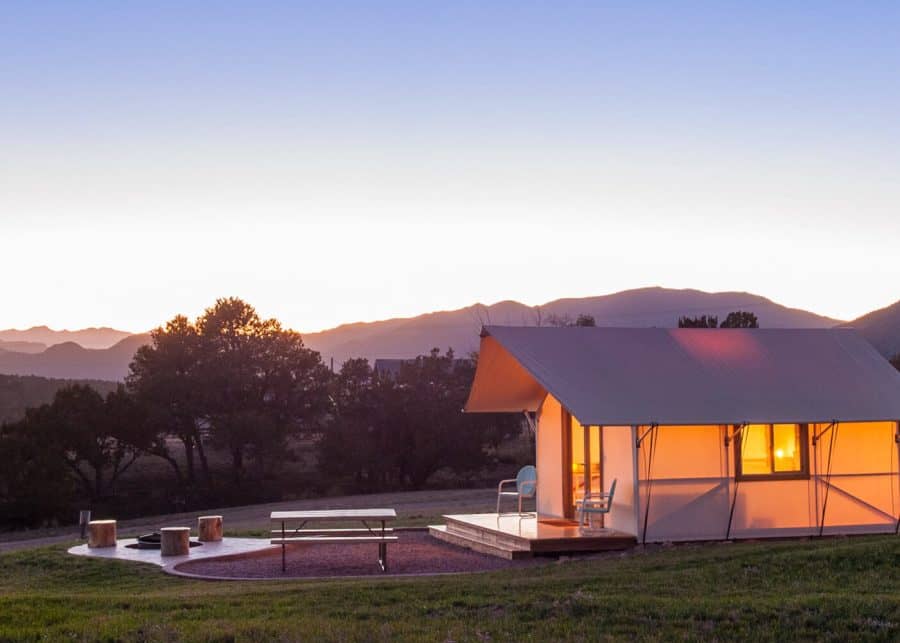 Your basecamp for adventure
Our glamping tents are the perfect local basecamp. Whether you're looking for adventure or relaxation, the Royal Gorge region has what you're looking for.
Our single queen glamping tents are located just outside of Cañon City, Colorado, close to the Arkansas River and Royal Gorge Bridge and Park. From your private patio take in panoramic views of the Sangre De Cristo mountains.
What should I bring on my glamping trip?
Electronics
Every tent is equipped with electrical outlets and free Wi-Fi, so bring electronics if you'd like to snuggle up and watch a movie.
Coolers
Your own personal fridge to keep your drinks and food cold.
Bug Spray
Colorado has far fewer bugs than most places, but it's still a good idea to bring some spray, especially for evenings under the stars.
Pillows or blankets
We provide all of the linens and comfort that you'll need.
Towels
We've got fresh, fluffy towels to keep you dry after a day of rafting or a good squirt gun battle.
Temperatures can fluctuate a fair amount in this part of Colorado, so our Single Queen Glamping Tents include an evaporative cooler for summer cooling, and plenty of cozy bedding to keep you warm in the evening. There is not an external heat source other than your camp fire ring on the patio. We encourage glamping guests to still consider this camping, so bring some layers and prepare for cool evenings.
You'll find a comfy pillowtop queen sized bed with linens, pillows, cozy comforter, two night stands, a leather couch for two, and a desk with chair.
Outside of each tent is a private porch with seating, as well as a fire ring with furniture quality stumps.
Our glamping tents offer complimentary WiFi, multiple electrical outlets and lights, a drip coffee maker with complimentary coffee roasted locally, fluffy towels for use in the shower house, and 24 hour access to the shared shower house with bathrooms and flush toilets. Be advised tents do not include running water or an in-room bathroom.
With each night stay we deliver firewood along with kindling and a fire starter kit to make it easy for our glampers to enjoy a fire. We even include simple illustrated instructions with each fire kit so even a first time camper can build their own campfire. The wood provided is typically enough for a fire lasting a couple hours. Additional wood can be purchased on-site when our lodging office is open. You are welcome to bring your own wood, too, if you prefer.
Unfortunately, we do see times when we are under mandatory fire restrictions by the county government. You will be notified on the day of your arrival if any fire restrictions exist. We do have a group gas fire pit as well that all glamping guests are able to enjoy during certain fire restrictions. In the event of very dry and/or windy conditions there are times when absolutely no open flames are allowed, even the gas fire pit.
No. Use of showers is included for all Royal Gorge Cabins glamping guests. Bathrooms include flush toilets and sinks. 24 hour access to the shower house and bathrooms is available via a keycard that will be provided to you at check-in.
What to see and do on your romantic glamping getaway
From wet and wild to chill and mild, there's so much to explore in the Pikes Peak and Cañon City region.
A few of our favorite family activities