Luxury camping – yes it's a thing. While camping is a great way to unplug from the everyday, glamping – short for glamorous camping – takes it to the next level. Colorado glamping vacations offer the ideal balance for rustic adventurers who love the crackling of a campfire, but also the comforts of a cozy cabin.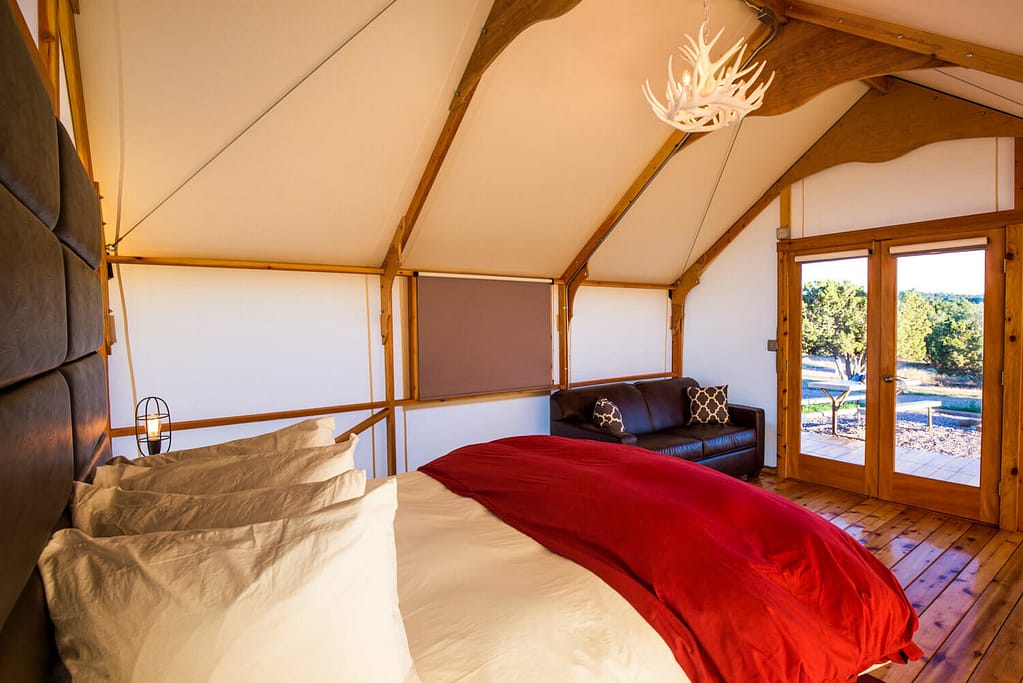 Single Queen Glamping Tents
Starting at $219 per night
Our single queen tents accommodate 2 guests with a cozy living space of 14' by 16'. Built on an attractive redwood deck, your tent includes an ultra-comfy bed with linens, lamps, love seat, desk and chair, and an outdoor porch with chairs and table. Ideal for a romantic Colorado glamping getaway, these tents can be rented from one night to up to a week, and are available for rent May through September.
Double Queen Glamping Tents
Starting at $269 per night
Designed to accommodate up to 4 guests, our double queen tents are built on a concrete slab with in-floor radiant heat for those cooler early or late summer glamping vacations. These luxury camping tents include two queen beds with linens, attractive lighting, wicker seating, desk with chairs, and a large outdoor patio with more seating and a table. Double queen glamping tents are available from a single night rental up to a week, and are available April through October.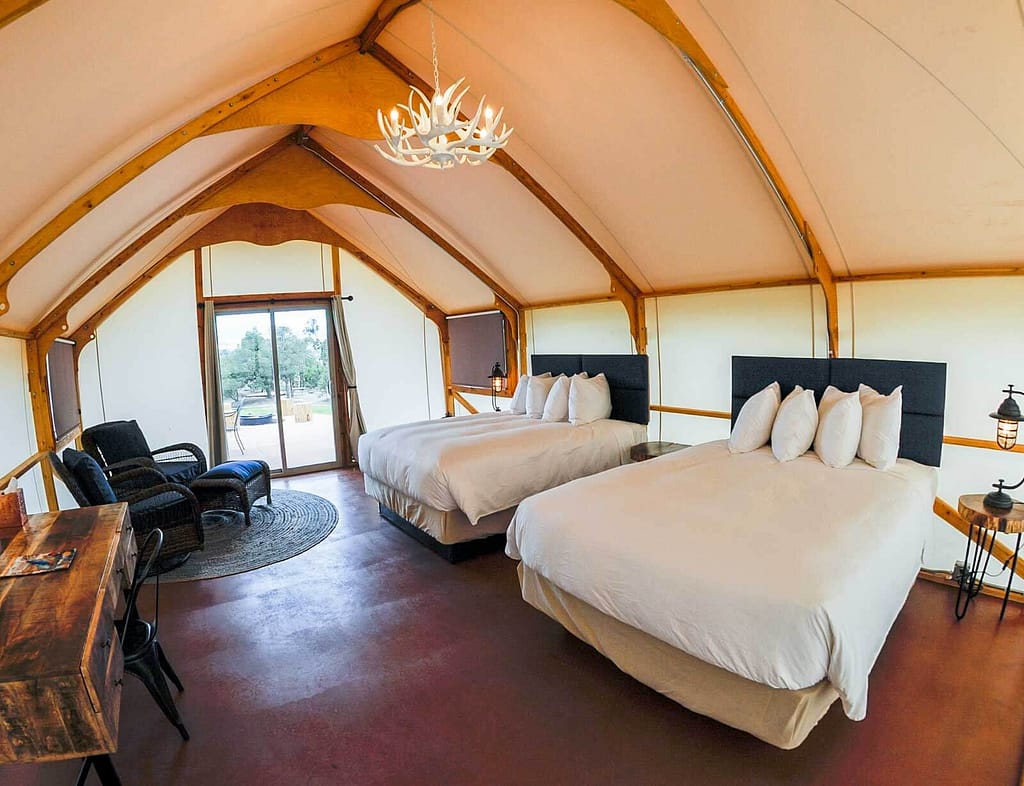 Luxury camping amenities & details
Our glamping tents combine the rustic experience of camping with the amenities of a luxury cabin. Immerse yourself in the mountain scenery, star-filled nights, and a Colorado campfire.
Starting at $219 per night
What should I bring on my glamping trip?
Electronics
Each luxury camping tent has multiple electrical outlets so you can power all of your toys, and you'll have access to free wi-fi.
Personal toiletries
While there is no running water or bathroom in the tents, you're just a short distance from our shower house and bathrooms (open 24 hours a day).
Bug Spray
Your Colorado glamping experience is still camping, so bring along insect repellent, and please understand leaving your door open will allow uninvited pesky bugs to join you in your tent for the night!
Linens, pillows & towels
To us, luxury camping in Colorado means your tent is furnished, so don't worry about bedding, pillows or towels - we've got you covered.
Shampoo, conditioner & soap
Showers in the nearby shower house include spa-style dispensers for shampoo, conditioner, and soap, so you can leave those toiletries at home.
Your furry friends
We don't allow pets, although there is a reputable pet boarding facility nearby.
Things to do while glamping in Colorado
Where you stay while visiting Colorado is just as important as the activities you enjoy and the attractions you visit with your family and friends. Our Colorado vacation rentals are located just 8 miles outside of a Cañon City, and you won't have to navigate miles of gravel roads to arrive at your destination.
A few of our favorite family activities