The snowpack is melting high up in the peaks of the Rocky Mountains, feeding the state with fresh water that's turning the grass green and helping the flowers bloom. Just driving through the mountains is a treat for the senses, with rushing rivers, buzzing bees, and tree leaves fluttering in the wind. 
We're entering the season in Colorado where the crisp nights are gloriously temperate, great for stargazing and roasting marshmallows over a crackling fire. It's the time to take your family—or that someone special—on an adventurous outdoor rendezvous. 
Where are the best vacation spots in Colorado to explore this summer? We've traveled the state near and far, collecting some of our favorite spots for rustic camping, pampered resort life, and everything in between.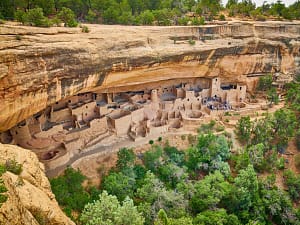 I remember going to Four Corners when I was barely five years old. Standing in four states at one time—especially considering I'd never visited a total of four states in my life—was a special moment for me. 
This monument is where Colorado, Arizona, Utah, and New Mexico meet. Plus, there are loads of exciting archeological sites and scenic landscapes on your way from Denver and close-by in the other states. Don't miss Mesa Verde National Park on your way, where you'll find Pueblo cliff dwellings from over one thousand years ago.
The Royal Gorge Bridge & Park is one of the most popular tourist destinations in Colorado, and for good reason. Not only will you find North America's highest suspension bridge, but there are endless adventures for the whole family. From zip lining, a new via ferrata assisted climbing route, to mountain biking some of the best up-and-coming trail systems in the state, there is plenty to entertain the adventure lovers and outdoor enthusiasts alike. 
The Royal Gorge is in our backyard, located just ten minutes from our cabin rentals and glampsites. Here you can stay in luxury while still enjoying your own private space and panoramic views of the mountains.
Right outside of Colorado Springs and at the foot of Pikes Peak, one of Colorado's most well-known fourteeners (peaks reaching more than 14,000 feet high!), is Manitou Springs, one of our favorite quaint mountain towns. There are archeological sites to explore, the Cave of the Winds, mountain biking, rock climbing, and more, all with a cute downtown full of local art and tasty food to try. 
Our favorite place to stay in Manitou Springs? The Cliff House at Pikes Peak, a 4-stay Victorian-style hotel offering beautiful balconies and ritsy bathrooms with jetted tubs and his-and-her sinks.
While most people know of Crested Butte for its phenomenal ski slopes, it's also one of the most beautiful areas in Colorado during the summer. Full of activities like zip lining, biking, camping, hiking, fly fishing, and horseback riding, you can enjoy outdoor fun any day of the summer. Plus, Crested Butte is home to numerous summertime festivals, including the four-week long Crested Butte Music Festival.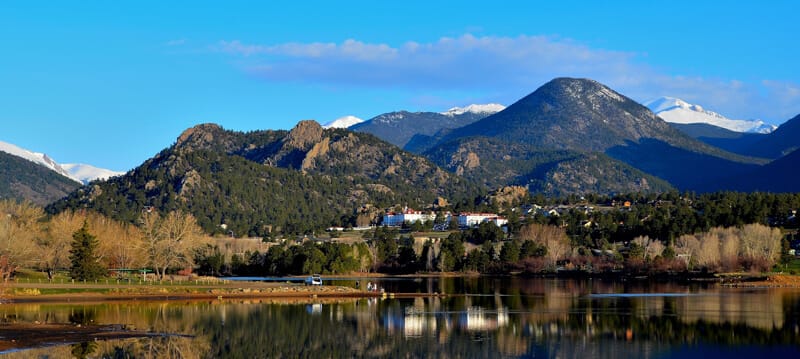 Estes Park is close enough to the Denver metro area to enjoy during a day-trip, but you can spot even more wildlife and explore more miles of trails if you spend a mini-weekend vacation here. This is a fun spot to explore the trails and try your hand at photography, where colorful sunsets are met with elk and mountain goat sightings. 
For a romantic weekend, try staying at the StoneBrook Resort. Not only does this spot boast a 5-star rating on TripAdvisor from over 700 reviews, but some of the cottages offer private hot tubs or in-suite spa tubs set amongst a tranquil river and mountain backdrop.
If you want to rub shoulders with celebrities while enjoying some unique festivals this summer, take a look at Aspen. Some of our favorite festivals here include: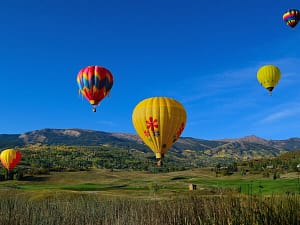 Aspen Jazz Festival: A 3-day gathering of some of the top names in jazz

MountainSummit: MountainFilm Festival: A non-fiction documentary film festival

Snowmass Balloon Festival: Hot air balloon events with races and shows
Plus, this is the mountain town you want to visit if you're looking for a luxurious vacation filled with world-class dining, boutique shopping, and 5-star hotels.
Located to the far west of our state is Telluride, a top spot for both thrill-seeking and luxury vacations. Once a Victorian mining town, you'll now find pristine hiking, thrilling whitewater rafting and kayaking, heart-pounding rock climbing, and a wonderful mountain town full of history and hospitality. 
When you're looking for a combination of luxury and wilderness, Dunton Hot Springs is one of our favorites, especially for weddings. They offer world class cuisine, beautiful hot springs, and top-of-the line amenities, allowing for an unforgettable stay.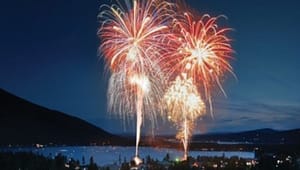 Grand Lake made our list thanks not just to its natural beauty, but because of the state's biggest Fourth of July fireworks show. Bring your family to camp along the shores of this pine tree-lined lake while you spend your days playing in the water and your Fourth of July evening enjoying one of the best fireworks shows there is. We recommend booking a campsite early through the Grand County camping page. 
If you don't want to gather all of your camping gear, there are plenty of hotels, lodges, and cabins to enjoy near the lake. 
When you're looking for hot springs, nature, and mountains at a much more reasonable price-point than ski resort towns like Aspen and Telluride, spend your vacation in Buena Vista! Home to some of the best whitewater rafting there is and the beautiful Mt. Princeton Hot Springs Resort, you can enjoy the best of Colorado's wilderness here.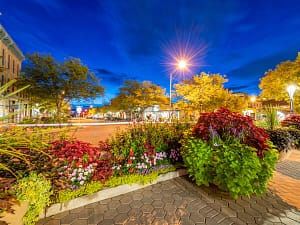 It seems like everyone knows about Denver and Boulder, but fewer have spent time in northern Colorado's city Fort Collins. Here you can find fun nightlife, beautiful hiking, and lots of museums, restaurants, and boutiques to explore. We recommend finding an Airbnb near Downtown Fort Collins for the best in entertainment and cuisine.