Colorado isn't only for those who love roughing it in nature. For many years, Telluride, Vail, and Aspen, among others, have been destinations for the rich and the famous to vacation in the lap of both luxury and natural beauty.
But it's not only celebrities and CEOs that deserve to live the high life. We all deserve to enjoy a luxurious vacation in the Colorado mountains from time-to-time. In this article, we're going to share with you some of the top spots in Colorado to enjoy a luxury vacation.
What Makes a Luxury Vacation Special?
Luxury vacations are a way to completely unwind and spoil yourself and those close to you when you need it the most. They're a way to enjoy the finer things in life and not have to worry about a thing.
When you stay in a luxury cabin or hotel, you can pamper yourself with a spa day, dine at world-class restaurants, and enjoy picturesque scenery. When you return home you can fondly recall your memories and relaxation, looking forward to the next time you get to enjoy top-notch amenities.
And when it comes to luxury vacations in Colorado, you get the additional benefit of enjoying some of the best scenery and outdoor adventure that this country has to offer. When you stay in the mountains you can add on other luxury experiences, like hot air balloon rides, or spend the days skiing, snowboarding, or white water rafting. Whether you enjoy relaxation, pampering, or outdoor experiences, a luxury vacation in Colorado has what you're looking for.
The Top Luxury Vacation Spots in Colorado
Located in the Rocky Mountains less than two hours from the heart of Denver is one of the most famous ski towns the world over: Vail. Here you can dine at some of the favorite restaurants of celebrities, stay in five-star hotels, and ski some of the arguably best slopes in the world.
If you're looking for picture-worthy gourmet food, try Kelly Liken, a restaurant owned by…surprise, Kelly Liken, whose fame has risen from shows like Iron Chef and Top Chef.
Telluride is quite the hop, skip, and jump from the Denver metro area, but it's well worth the trek. This gorgeous mountain town boasts spectacular views of a waterfall from the town center, boutique shopping, top-notch skiings, 5-star hotels, and endless outdoor adventure opportunities.
One of the most unique resorts near Telluride is Dunton Hot Springs, a resort located in a restored ghost town in the San Juan Mountains. You can enjoy a dip in the hot springs with beautiful views in every direction and later curl up on your deluxe mattress in your beautiful log cabin.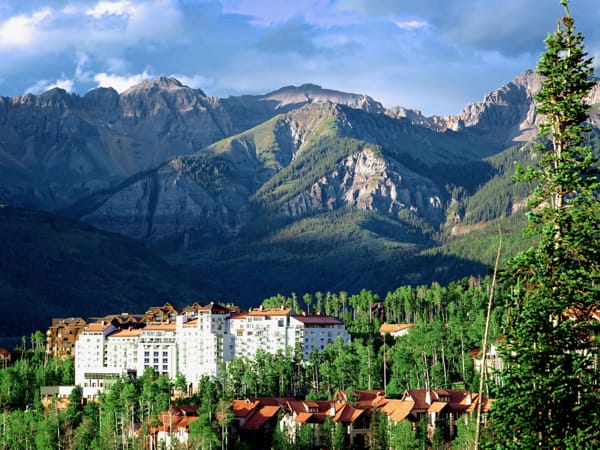 Aspen is another celebrity hot-spot located in the Rocky Mountains. You'll often hear people argue over whether Aspen or Vail is the best spot for a Rocky Mountain luxury vacation, but the truth is, both are absolutely stunning and full of opportunities to indulge. In fact, Aspen is one of the best spots for fine dining in the western US, with celebrity chef Mario Batali often spotted at the Ajax Tavern.
Right outside of Aspen is one of the nicest hotels in Colorado: Viceroy Snowmass. Here you'll find a 7,000 square foot spa, gourmet food, and amenities that will help make your stay more than comfortable.
When you're searching for luxury not-so-far from the Denver-metro area, look no further than Colorado Springs. Here you'll find the Broadmoor resort, a Forbes five-star luxury hotel and restaurant that has been pampering guests for over 100 years.
The Broadmoor is a great starting point for outdoor adventures like horseback riding and zip lining, plus, there are many amazing hikes, like Garden of the Gods, within reach. You'll also find quaint boutiques in the Broadmoor for when you want to  spoil yourself with a day of shopping.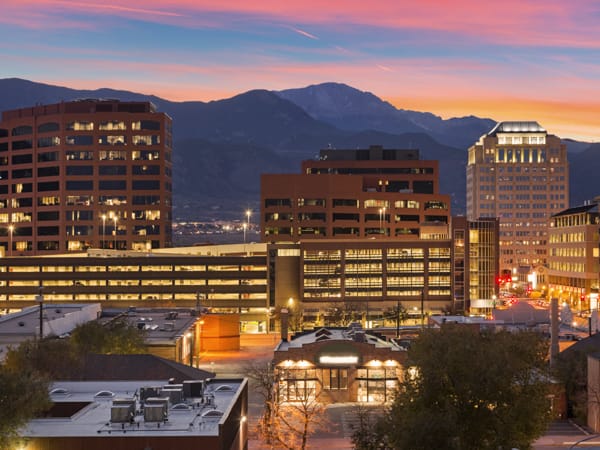 Breckenridge is one of the closest ski towns to Denver at only an hour and a half away. With adorable shops, beautiful slopes, amazing food, and extravagant hotels, Breckenridge is the epitome of luxury. This ski town is a great alternative to Aspen and Vail when you're looking for luxury at a slightly lower price point.
6. Luxury Cabins Throughout the Mountains
While there are certain mountain towns known for their glamour, you can find luxury cabins throughout the mountains in Colorado that offer world-class amenities and scenic nature. If you're looking to unwind in comfort, you're not short on options in our beautiful state.
Planning Your Colorado Luxury Vacation
When planning your luxury vacation, first think about how you want to spend your days and your nights. Are you looking for certain outdoor activities, or are you simply wanting to spend a few days being pampered? Choose your luxury hotel, cabin, or glampsite based on these factors to set yourself up for your ideal Colorado luxury vacation.