Some of the best memories as a family come from vacations and weekend getaways. We as parents put in lots of time and effort into planning where we want to go and the best places to stay, but if we aren't careful, we can still end up with our kids feeling bored. 

While rivers, mountains, and trails near your glampsite provide endless opportunities for fun, it can take some planning to ensure that your kids don't miss their smartphones and electronic gadgets. By planning the right activities on your family glamping trip, you can help your kids grow up with a love for nature and the outdoors. 
We've put together a list of our ten favorite glamping activities that your whole family will enjoy!
Fishing can be fun for kids who like to get their hands dirty, learning how to work a wiggly worm onto a hook, or for little animal lovers who just want to do some catch-and-release to discover the wildlife hiding beneath the surface. Spend some time on the bank of a river or as a family in a canoe or boat on a lake and have some fun trying to catch your dinner for the night.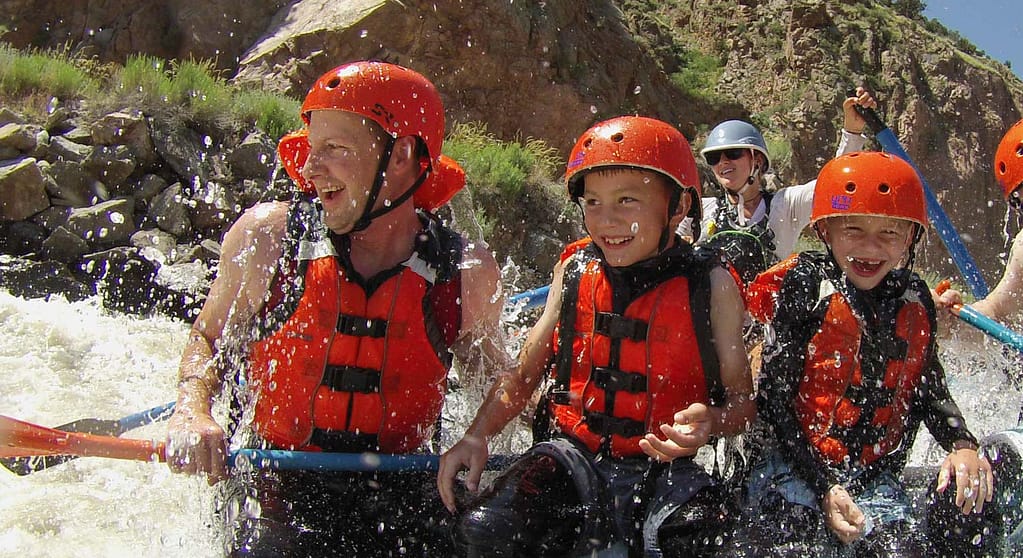 Adventurers come from far and wide to enjoy the whitewater rapids that Colorado has to offer. With crystal clear waters cutting through the state, you can find great spots of family whitewater rafting throughout the Rocky Mountains. The rafting is particularly fun for thrill-seekers and families alike near the Royal Gorge, where you can spend your day rafting and exploring the sites and your nights enjoying a luxury glampsite.
Most glamping sites are located near beautiful stretches of nature. One of the easiest and cheapest ways to enjoy the forest is to go on a family hike. Not only will you get to enjoy the beauty and peace of nature, but there's the added benefit of getting a good workout in, helping everyone to sleep through the night.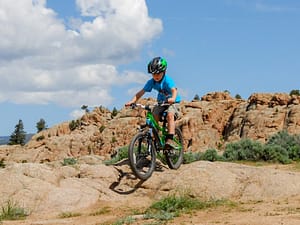 If you and your family are up for a bit more excitement, try mountain biking trails near your glampsite. Even if you don't have your own mountain bikes, there are often local places to rent them near great biking spots.
Whether or not you're a musical family, it can be a good time to gather around the campfire at night and make some music of your own. Bring simple instruments like drums and maracas and jam together as a family. Even better if one or more of you can carry a tune with your voice or guitar to get the party started. 
Many glampsites come with a private firepit that you can use to make tasty camping treats. S'mores are a go-to favorite, but you can also go a bit healthier with things like grilled corn on the cob or a skewer of veggies and lean meats. Or, if you happen to catch your own fish earlier in the day, you can season it, wrap it in foil, and cook a healthy and delicious local meal.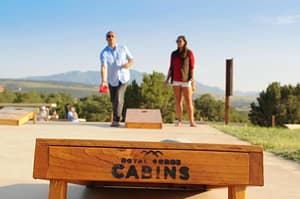 Many glampsites will offer fun outdoor games for you and your family to enjoy when you're not out exploring. At Royal Gorge Cabins, we have cornhole, ladder ball, giant jenga, horse shoes, tether ball, and large, grassy areas for things like frisbee. Check with your glampsite to see what they provide so you can come prepared to have some fun.
Spotting wildlife is one of the most amazing parts of being in nature. You get the rare opportunity to see animals in their natural habitat, some of which are unlikely to be found where most of us live. In the mornings you can use binoculars for birdwatching. Later, ask locals where herds of elk or deer are found and do a bit of exploring to see what you can spot.
On a clear night in the mountains, you can enjoy a sky filled with twinkling starlight that's often muddled in the city. Get out a blanket, lay down on the grass, and try your hand at spotting as many constellations as you can. Download a stargazing app for free ahead of time to help you out if you're not an expert.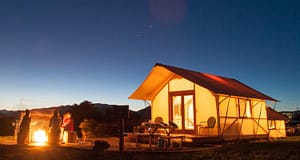 Do you remember gathering in a tent or fort telling scary stories with your friends when you were younger? Gather your whole family around the campfire and see who can tell the scariest story (winner gets an extra s'more).
Gather your whole family together a week or two before your glamping trip to plan activities that everyone enjoys. Come up with a list of activities that you think your family would like and have everyone pick out their favorite. This can foster even more excitement for your upcoming family vacation.