Some of the most popular glamping sites around Colorado are near Colorado Springs and the Royal Gorge. We have put together some of the best hiking that you will find within an hour or so of these two hot glamping spots.
The Best Hiking Trails Close to Colorado Springs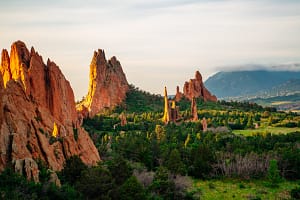 Garden of the Gods is one of the most popular hiking spots near Colorado Springs. Here you can enjoy 300' sandstone rock formations with a backdrop of gorgeous Pikes Peak. Your gaze will be met with rolling, green hills, beautiful mountain peaks, and jagged rock formations as you peruse the easy-to-moderate trails.
Seven Bridges Trail is a moderate 5.78 mile out-and-back trail that follows along a mountain stream. As the name suggests, you will cross over seven bridges along this hike where you can enjoy cascading water beneath you. This hike is ideal for hot summer days as the stream and tree cover keeps the surrounding hiking trails relatively cool. 
During your 2-3 hour hike, you will gain 1,597 feet in elevation, making for a good workout. 
The hike is best when snowpack is low, and the water is more intense during the spring when the snowpack is melting. Try to visit from March to November, depending on the weather.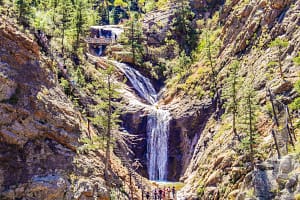 Seven Falls is a hike that is great for anyone who loves waterfalls. The seven waterfalls tumble down 181 feet, and the whole park is paved for convenience. While this hike is often busy and doesn't exactly get you out in the middle of nature, it is still an incredibly beautiful experience. Plus, there is a zipline course for those looking for more adventure. 
Pro tip: visit near sunset and you can enjoy the waterfalls during the day and at night. In the dark, LED lights are used to create a majestic experience. 
Keep in mind that there is a fee to enter the park. Click here to see ticket options.
Red Rocks Canyon Open Space
Red Rock Canyon Open Space is home to multiple short trails through beautiful red rock formations. One of our favorites is the Contemplative Trail named for its meditative quality. No horses or bikes are allowed in order to keep the trails quiet for hikers only. There are benches along the way that you can use to unwind in this beautiful red rock canyon. 
Contemplative Trail is 1.75 miles and is a fairly easy trail. You will also find other, longer trails, such as Hogback Trail, which takes you onto a plateau where you can view the rock formations from overhead and spot Pikes Peak behind you.
The Best Hiking Trails Close to the Royal Gorge
The Royal Gorge Bridge and Park and the surrounding wilderness offers many miles of beautiful hiking trails suitable for those looking for a leisurely stroll to those thirsting for a challenge. We have put together a list of the best hiking trails for when you go glamping near the Royal Gorge.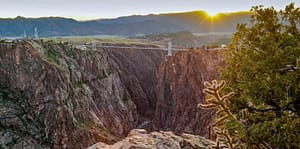 You will find Overlook Loop Trail in the Royal Gorge Park trails system. We love that this trail is short, simple, and offers a bird's eye view of the Royal Gorge Bridge. In fact, you can hike this 1.5 mile trail without having to pay the entrance fee for the Royal Gorge State & Park. And it's not only bridge views that will greet you, but sweeping canyon views as well.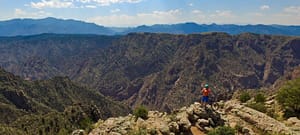 If you're looking for a longer, more challenging hike where you can see the Royal Gorge Bridge from afar, try the Canyon Rim Trail. The views are spectacular and the trails fairly easy. As long as you're ready for some elevation increases, this trail is a gem. Similarly to Island in the Sky, you can use this trail to see the Royal Gorge Bridge from afar, free-of-charge.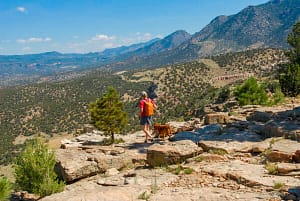 Island in the Sky is part of the Oil Wells Flats trail system, an extensive trail system great for hiking or mountain biking. When you begin this hike, you will be met with shade from towering pine trees. As you ascend, the trail will lead to an open meadow where you will begin your ascent towards the ridge. 
Once you reach the top, you will be rewarded with sweeping views of snow-capped mountains, Cañon City, and stretches of flat wilderness. This hike is rated as intermediate/difficult and is a total of 3.1 miles, during which you will gain some elevation.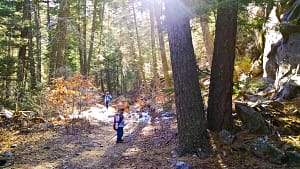 Newling Creek is found near Florence, Colorado. This 6.2 mile moderate hike challenges you to 2,125 feet in elevation gain. During the hike, expect lots of shade from tree cover, unless you're hiking midday and then you may be met with some sun. 
With multiple waterfalls and a historic logging site, there are lots of things to see and explore. Best of all, you really feel like you're one with the forest. This quiet hike is a great way to get out in nature and enjoy a good workout.
You will need to cross Newlin Creek multiple times, so water shoes or sandals can be helpful.
Lakes of the Clouds is located in the Sangre de Cristo Mountains near Westcliffe, Colorado. These gorgeous high-altitude lakes have crystal clear water that is surrounded by lush green and pine trees. This trail is a 10.6 mile hard trail that offers avid hikers a great way to get away for the day and enjoy the quiet serenity of the mountains. 
The lakes here are popular for fishing and camping, so if you have the time and equipment, it can be a beautiful area to enjoy a night or two of backpacking. During the right times of the year, you can enjoy forests of Aspen trees changing colors and wildflowers blanketing the ground.
Vindicator Valley Trailhead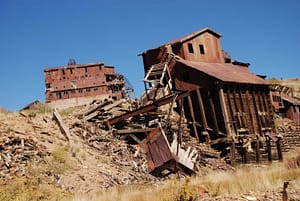 Near Cripple Creek, Colorado, you will find Vindicator Valley Trailhead. This hike is a historic hike around old gold mines and is especially enjoyable for those who are interested in the history of Colorado. You will find signs along the trail that will teach you about the gold rush of the late 1800s. This is an easy, 2-mile loop hike where you will also see the Sangre de Cristo mountains to the south.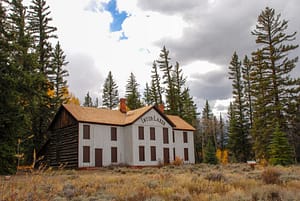 Along the Twin Lakes near the headwaters of the Arkansas River, you will find Interlaken Trail. This trail takes you along 4.7 miles of easy terrain where you can explore the partially restored Interlaken Hotel. This hotel was popular amongst the wealthy in the late 1800s and offers a unique peek into Colorado's history.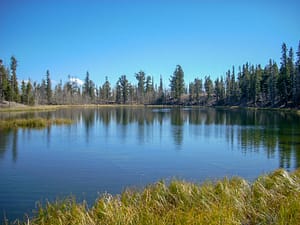 Not too far from Buena Vista, Colorado, are the Harvard Lakes where a 5.4 mile moderate trail takes you to two small, hidden lakes. This is a great way to get away for the day and enjoy the reflection of pine trees in the water. 
After a day spent hiking, try the rejuvenating Mt. Princeton Hot Springs before heading back to your glampsite for the evening.
When you go glamping in Colorado, you are met with seemingly endless hiking trails. Find some that you enjoy before heading out so that you can be sure to see what excites you the most.