Colorado Springs is the ultimate playground for outdoor enthusiasts and culture lovers alike. You can find deep canyons, towering mountains, funky mountain towns, the Olympic Training Center and more a short drive from Colorado Springs. And as the second largest city in Colorado, you won't be hurting for fine dining or late night fun if that's what you're craving after a day spent exploring. 
Whether you're taking a Colorado road trip or picking a location for a weekend away from Denver, Colorado Springs is a great spot for enjoying the best of Colorado. From food and fun to nature and history, this city has it all.
Read on to learn about the top activities near Colorado Springs and the Pikes Peak region.
1. Visit the Royal Gorge Bridge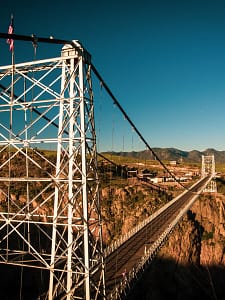 Just over an hour southwest of Colorado Springs in Cañon City is the Royal Gorge Bridge & Park, home to the highest suspension bridge in North America. The park itself offers a variety of activities fun for the whole family, including a gondola, ziplining, a sky coaster, and more. 
The area is also home to some of the best white water rafting in the state and trails great for 4×4 adventures, mountain biking, and hiking. If you have the time, enjoy a night in Cañon City by renting a cabin or glampsite and enjoy a sky painted in twinkling starlight as you wind down from a day of exploration.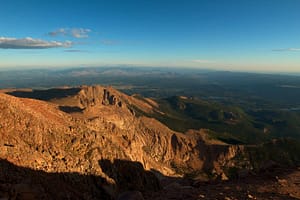 Pikes Peak, also known as "America's Mountain," is one of the most well-known 14ers—mountains that tower over 14,000 feet in elevation—in Colorado. You can enjoy the scenic drive on your own or take a tour up the mountain with a guide who can share with you the interesting history of America's Mountain. Once you reach the top, enjoy a donut and hot chocolate and pick out some souvenirs at the gift shop.
3. Go to the Cheyenne Mountain Zoo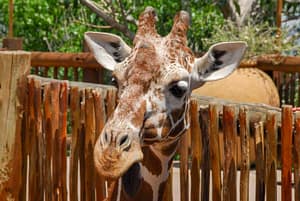 If you are traveling with children or animal lovers, a visit to the Cheyenne Mountain Zoo is a must. Not only will you find an array of animals from around the world that you get to experience up close, but you can actually feed lettuce to the giraffes! Feeling their long, black tongues grasp the lettuce is a memorable experience sure to bring out giggles from the kiddos.
4. Explore the Cave of the Winds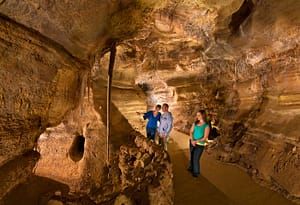 Cave of the Winds has been a popular destination for more than one century. You can take a cave tour during the day on well-lit even paths, along unimproved sections by candlelight, or as an intro spelunking tour where you crawl, walk, and climb for over two hours through muggy, muddy passageways. 
And if you have any adventurers in your group, Cave of the Winds Mountain Park offers more than just fascinating cave tours. There are ziplines, rock climbing, thrill rides, and more to get your adrenaline pumping in the great outdoors.
5. Experience History at the Manitou Cliff Dwellings
When it comes to visiting ancient architectural ruins, one of our favorites are cliff dwellings found in Colorado. You can tour the Manitou Cliff Dwellings, Anasazi structures that were relocated here from southern Colorado in the early 1900s. Unlike many historic sites, you are allowed to enjoy a tactile experience, touching and exploring as you learn about what life was like many centuries before the Europeans arrived. 
Every month there are different free events that are fun for the whole family. If you come at the right time, you can interact with wolves and have pictures taken as you learn about important conservation efforts.
6. Peruse Historic Manitou Springs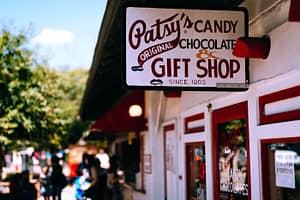 With a few of our favorite attractions located in Manitou Springs, it can be fun to explore this quirky mountain town located at the base of Pikes Peak. It is known as a hippie town with local boutiques and art galleries amongst family-owned restaurants and historic buildings. 
One of the favorites amongst kids and anyone young-at-heart is their arcade that is full of old-fashioned games that still cost their original penny to play. With nearly 400 games, you are likely to find your old favorite that you can introduce to your kids. 
And if you have the time and endurance, try climbing the Manitou Incline. This hike takes you up over 2,000 feet of elevation as you climb old cable car tracks like stairs up the side of Pikes Peak. After you scale the 2,744 stairs, you will be met with a gorgeous panoramic view of the Pikes Peak region.
Visit Cripple Creek to take a trip to Colorado's colorful past as a prime gold rush destination in the late 1800s. We love this spot for family vacations as there are so many fun historic sites and museums to visit. 
For instance, the Jail Museum gives you a glimpse into what law-breakers' lives would have been like in the late 1800s. The Mollie Kathleen Gold Mine takes you down 1000 feet into an old gold mine where you can envision what it was like to be a gold miner long ago. Plus, historic buildings have been preserved throughout this historic mining town and converted into candy stores, souvenir shops, and more.
8. Go Fishing Along the Arkansas River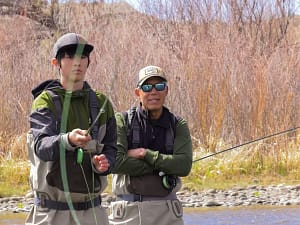 Colorado is home to many pristine fishing spots, with one of the best located in Cañon City just an hour outside of Colorado Springs. The Arkansas River found here boasts many miles of Gold Medal fishing, with clear, fresh water full of tasty trout. 
If you are new to fishing and would like to have someone show you the ropes, there are plenty of fishing guides that can take you to the best spots.
9. Visit the Olympic Training Center
Olympic athletes are some of the hardest working people around. Many US Olympians spend part of their year living in the Olympic Training Center in Colorado Spring. The training center was built here partly thanks to the natural landscape providing the ideal training ground for cyclists and other athletes.
Visitors can take a tour of the Olympic Training Center, during which you can learn about what life is like for an Olympic athlete. You may even be lucky enough to see one of your favorites!
10. Take a Dip in the Natural Hot Springs
Natural hot springs have been used for many centuries as part of healing rituals in tribal societies around the world. To this day, many people flock to hot springs to relax and unwind in their mineral-rich waters. 
One of our favorites in the state is the Desert Reef Hot Spring, a family-friendly hot spring resort in Florence, Colorado. This oasis in the middle of the desert is located less than one hour's drive from Colorado Springs. The landscape is beautiful and the stars at night are not-to-be-missed. Keep in mind, this is a clothing optional hot spring.
When you visit Colorado Springs, there is no shortage of ways to have a good time. Outdoor adventures, physical challenges, adrenaline-packed experiences, historic mountain towns, adventure tours and more are awaiting your arrival.