Cañon City is a beautiful, quaint mountain town with lots to offer to families and outdoor adventurers alike. With the Royal Gorge Bridge & Park, world-class white water rafting, upscale glamping accommodations, and seemingly endless miles of trails within reach, there are countless activities to enjoy.
Mountain Biking in Colorado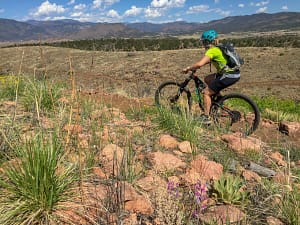 We are here to share with you some of the best Colorado mountain biking trails in the state. Within driving distance from Cañon City are bike trails built for all levels of mountain bikers. 
Keep in mind the level of difficulty of each of the below trails, particularly if you are a beginning mountain biker. While it might be tempting to jump right in and try a more advanced trail, it is important to get your feet wet first. 
For newer bikers, we recommend that you don't attempt intermediate or advanced trails, also called blue or black trails, without first easing into it with some beginner or green trails.
Mountain Biking Trails Near Cañon City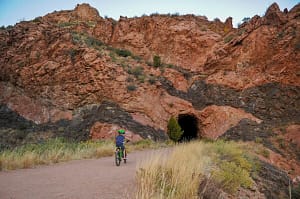 Cañon City Riverwalk is a biking and walking trail that is fun for beginners and anyone who enjoys bird watching. Its trails wind along the Arkansas River near downtown Cañon City/ Because this trail is adjacent to several wetland areas, you can spot a variety of birds, particularly during the warmer months. 
We especially love the Tunnel Drive Trailhead which is located just west of town. Here, you overlook the Arkansas River as it heads towards the entrance to the Royal Gorge. 
You might be able to spot Green Herons, Blue Grosbeaks, Yellow-breasted Chat, deer, raccoons, and rabbits along this beginner-friendly trail. Additionally, because of the proximity to downtown, this is a good one for when you want to spend a leisurely day exploring the area. You can take time to enjoy the local restaurants and shopping.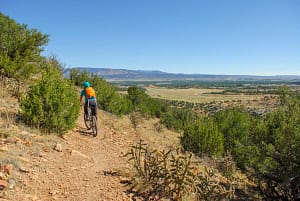 South Cañon Trails are great for intermediate and advanced riders. Near town, the trails are mellow, but at you ascend to Section 13, you will encounter technical sections that test your biking prowess. You may even choose to hike your bike up and tear on your way back down into town.
The Royal Gorge Park Trail System
You will find over 20 miles of intermediate to difficult trails along the Royal Gorge Park trail system. These trails are a great way to view the Royal Gorge Bridge from afar for free. You can enjoy red rock formations, gorgeous canyon views, and exciting trails that wind through the grassy hills and canyons.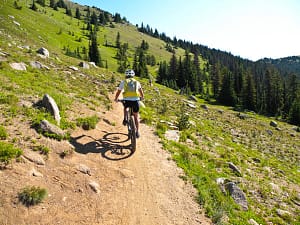 Only 90 minutes from our glamping cabins you will find some of the most epic and challenging trails in Colorado at the Monarch Crest Trail. This trail starts on the Continental Divide near Salida and is well-known amongst mountain bikers in Colorado. You will cover 36.2 miles if you go from point to point with a gain of 2,035' and a descent of -5,890'. 
Contact Absolute Bikes in Salida for info and to set up your shuttle for this ride. This is a difficult/very advanced trail where you will find amazing views, doubletrack, singletrack, rocky gravel, a fire road, and more.
Near Buena Vista you will find Midland Trails System, which includes several easy, intermediate, and advanced trails. The trail is a 10.3 mile loop with a gain of around 468'. Your elevation climb will be gradual, but you will be met by several quick, steep technical sections, so be sure you're experienced enough to enjoy them. 
After your day of winding through beautiful forests and embracing exciting downhill sections, try visiting the local hot springs in Buena Vista. Mt. Princeton Hot Springs are some of the best in the state, with multiple pools, areas near the river where you can make your own spot, and a huge pool in an adults-only area.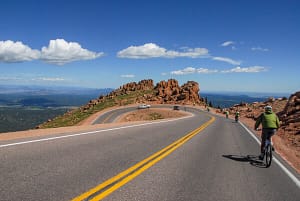 Pikes Peak is a gorgeous 14er (a mountain that reaches over 14,000 feet) found right outside of Colorado Springs. They offer mountain biking tours that descend an exciting 7,000 feet with insane panoramic views. Because the tour only includes biking down Pikes Peak, it is great for all skill levels. And when you go with a tour, you will have all of the necessary equipment provided for you. 
This is truly a unique experience that is something you and your family will never forget.
When you come out to Cañon City, you are met with endless outdoor adventures. Mountain biking is a fun and exciting way to explore the various ecosystems and really enjoy what the beautiful Colorado mountains have to offer.