Wintertime is one of the most spirited times in the Colorado Mountains. Nature lovers and adventurers alike flock to the Rocky Mountains to enjoy the best that winter has to offer. Since the snow has started to fall, we put together some of our favorite activities to do in Colorado. Check them out below!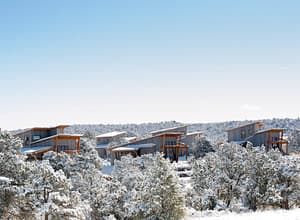 The great outdoors are magical when the trees and ground become a canopy of white. Escape to the mountains for a luxury cabin vacation the next time that snow is in the forecast. You can curl up in front of the fireplace and sip hot cocoa as you watch the snow gently fall and settle all around you. Winter in the mountains offers a cozy romantic vacation for couples or a fun escape for families.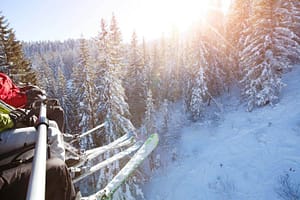 Colorado's Rocky Mountains are well-known for having some of the best skiing and snowboarding in the United States. Whether you are new to skiing or a self-proclaimed ski bum, the Rocky Mountains are a fun-filled destination. Aspen, Vail, and Breckenridge house some of the nicest ski resorts around, and they are filled with winter activities from the time the first flake of snow hits the ground.
From the Denver metro area to the quaint mountain towns many hours away, you can find outdoor ice skating during the coldest months of the year. Ice skating is one of the best winter activities for kids. One of our favorite spots for skating is Evergreen Lake. Located just 30 minutes from Denver, the Evergreen Lake allows ice skating when the ice is thick enough. 
With quaint shops and tasty restaurants just a short walk or drive away, families and couples can make a whole day of visiting Evergreen during the winter. You can even try your hand at ice fishing.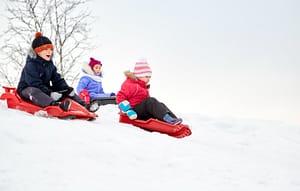 Sledding might just be the most fun that kids can have close to home after the first snowfall of the year. All you need is warm weather gear and a sled to get out and have some family fun. Plus, climbing up the hill repeatedly is a great workout.
Tube Down a Mountain Slope
Tubing is a more exciting version of sledding. A day spent tubing in the Colorado mountains is fun for kids and adults alike. Whether you need an exciting spot for a Tinder date or you want to make some memories this winter with your family, check out one of the many tubing hills that Colorado has to offer. Many of these are found in ski towns, giving you the opportunity to indulge in fine dining and shopping once you're finished with your daily dose of excitement.
You don't need to travel all the way to Alaska to experience what it's like to glide along snow-covered trails as a team of huskies shows you what they're made of. Huskies were bred to be sled dogs, and they have a great time romping around in the snow as they take animal lovers on a ride of their lifetime. There are plenty of dog sledding spots to check out in Colorado, some offering treks up to 6 miles long!
Hit the Trails with Snowshoes
Do you love the solitude and exercise that hiking offers? If so, snowshoeing might be just what you need this winter. Snowshoeing gives you access to routes rarely taken during wintertime. It allows you to visit alpine lakes covered in snow while enjoying scenic views with no one else around. 
Snowshoeing is a great budget-friendly option for exploring the Rocky Mountains during winter. You can buy your own or rent them at many places throughout the state.
As the weather changes and snow moves into the mountains, there are a new set of fun and exciting experiences to have in the Colorado mountains. Spend a weekend renting a cabin or ski chalet to give yourself the opportunity to indulge in the many outdoor activities that wintertime in Colorado offers.