Colorado is an outdoor lover's paradise. Mixed in amongst the panoramic views of snow-capped peaks and endless miles of lush green forests are countless miles of 4-wheeling trails perfect for scenic Jeep and ATV adventures. 
Cañon City is one of the premier 4-wheeling destinations in the state. Hop on your own ATV and take in scenic views in the Cañon City area.
The Best 4-Wheeling Trails in Cañon City
When you come to stay and play in Cañon City, there are lots of outdoor adventures to be had. River rafting, mountain biking, ziplining, hiking, and fishing are just a handful of ways that you can have some fun in nature. No matter why you come, try to fit in a 4-wheeling adventure for some added thrill the next time you visit.
Texas Creek Recreation Area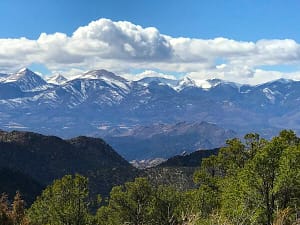 27 miles west of Cañon City is Texas Creek Recreation Area, a popular spot for motorized thrills. This is one of the few areas that you can enjoy year-round thanks to limited snowfall that tends to melt quickly. 
During the summer, you will ride alongside bright green aspen and beautiful wild grasses, and during the winter, the miles of juniper and pinon pine trees keep the area rich and green. 
There are 45 miles of trails great for all skill levels. You can find easy, wide 4×4 trails big enough for Jeeps and narrow switchbacks lined with rock formations that are much more challenging and exciting, a fun spot for an ATV adventure. 
When you're taking a break from the adrenaline-pumping action, pull off and take in the views of the Sangre de Cristo mountains offered at the top of scenic hills. You may be lucky and spot elk, bighorn sheep, or deer as you're riding along this stretch of trails.
Seep Springs Recreation Area
Just 9 miles north of Cañon City you will find the Seep Springs OHV Area which includes 16 miles of trails great for motorcycles, horseback riding, ATVs, and four-wheelers.
The landscape is a high desert filled with sandstone rock formations, panoramic ranchland views, and miles of juniper, pinon, and ponderosa pine forests. The trails start out low and slowly climb in elevation while they get rockier, narrower, and more challenging. You can even camp here, allowing you to ride into the sunset and then first thing after your morning cup of Joe. 
One word of caution—the area closes its gates to motorized vehicles when the weather is wet, so be sure to check conditions before you go.
Other OHV Trails in Colorado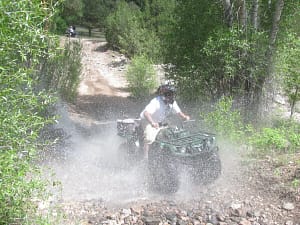 Many explorers who visit Cañon City do so as part of a tour of the vast Colorado wilderness. If you and your friends or family are in search of excitement throughout the state, there are thousands of miles of 4-wheeling to be done in diverse landscapes. 
Click here to learn about 7 of the best ATV and Jeep trails in the state. If you are headed from the Denver metro area and have your own ATVs or Jeeps, you can stop by the Central City/Saint Mary's Network that is just north of Idaho Springs on your way back home. The alpine lakes and pristine glaciers are not-to-be-missed.
Cañon City is an outdoor-lovers paradise. With the Royal Gorge Bridge & Park, amazing trails, and recreation provided to us by the Arkansas River, your stay can be filled with endless outdoor adventure and beauty.