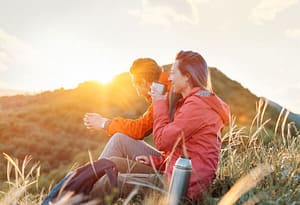 Bright lights and busy streets aren't the epitome of romance for everyone. There are those of us who would prefer a star-lit sky and the kind of privacy that only vast stretches of wilderness can offer. 
The American wilderness offers an ideal landscape for a romantic honeymoon getaway. Whether you're looking for adventure, relaxation, or a bit of both, you'll find countless options for a honeymoon you'll remember for the rest of your lives together.
11 Unforgettable Outdoor Honeymoon Ideas
We have compiled eleven romantic and exciting outdoor honeymoon ideas for you and your loved one to experience together. You can pick and choose more than one outdoor adventure to form many memories together, or choose one and dive all in. 
To start your honeymoon off right, try going on a romantic hot air balloon ride. Here you can have a champagne toast while looking out on the endless expanse of nature below. You can find hot air balloon rides across the country, making this a great activity to kick-start any honeymoon adventure.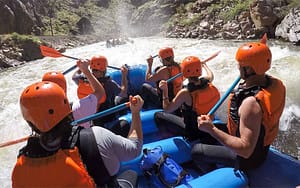 If you're newlyweds looking for some adventure, try paddling through rapids on a fun and exciting white water rafting trip. You can either go on a multi-day rafting trip where you camp and raft your way along picturesque stretches of river rarely visited by foot, or do a ½-day or full-day on the river as part of your outdoor honeymoon vacation.
Picture waking up to a panoramic mountain view with no one there but yourselves. Backpacking is the  epitome of outdoor adventure and intimacy, with the possibility of complete solitude and diverse landscapes full of twinkling stars and birds singing in the mornings. Plus, this is one of the most economical outdoor honeymoon ideas if you already have your backpacking equipment. Why not travel somewhere that you've always wanted to explore and celebrate your honeymoon with just the two of you?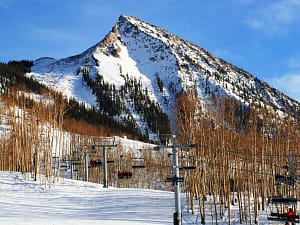 Ski resorts offer top-notch luxury, from honeymoon suites and private hot tubs to world-class dining. Spend your days cutting through the powder and your nights sipping champagne by the fire as you cuddle underneath a blanket and plan your future together.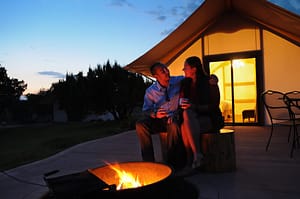 Glamping (glamorous camping) is a way to experience the majesty of nature while enjoying the amenities of world-class hotels. You can sleep on luxury sheets right after roasting marshmallows on your own, private campfire set underneath a canopy of twinkling stars. 
You can find glampsites across the world in all kinds of ecosystems. Whether you're snowbirds, beach lovers, or ranch fanatics, you can find a romantic glampsite offering an ideal combination of nature and comfort.
Do you and your spouse love seafood and adventure? Then why not try out deep sea fishing, a sport where you can feel the rush of catching your own seafood while soaking in the sun on board of your chosen ship. You can find options that include a chef to prepare the catch for you so you and your partner can enjoy the time on the ocean to its fullest.
7. Snorkeling or Scuba Diving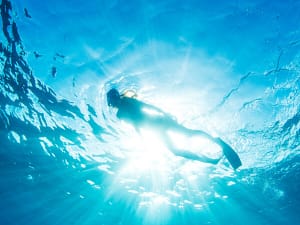 Have you ever experienced the beauty of the underwater world? Here scores of fish decorated in every color of the rainbow dart in-and-out of palaces made from glorious textures and colors of coral. If you're up for the challenge, try scuba diving, where you can feel what it's like to be weightless as you experience the world from another angle.
"Aruba, Jamaica, ooh, I wanna take you to Bermuda, Bahama, come on pretty mama…" is one of many songs about the wonderful romance offered by an island getaway. Imagine sipping piña coladas as you listen to the waves crash against the shore and strolling along with your feet just in the water as the sun sets over the endless sea. 
What's more, islands are home to many exciting outdoor adventures. From sea kayaking and snorkeling to hiking and cave exploration, you can spend much of your time experiencing the unique landscape and the deep, mysterious ocean.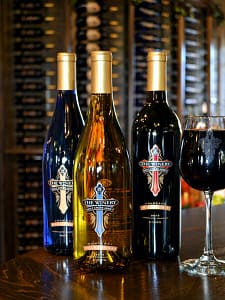 Wine country is lined with rows of grape vines and romantic possibilities. Whether you're in Napa Valley in California, Casablanca in Chile, Champagne in France, or Tuscany in Italy, you will be surrounded by a lush green landscape with endless tasting opportunities and delicious three course meals paired with fine wine. 
These regions of the world are a great setting for an outdoor honeymoon, with warm, sunny days, and cool, crisp evenings. You can find private wine tours that will take you from one place to another, either in a restored classic car or a horse drawn carriage, and spend your evenings in one of the many romantic honeymoon suites sprinkled throughout the region.
10. Skydiving or Bungee Jumping
Have you ever experienced the rush of jumping off of a platform over the forest or a bridge above a rushing river? Or strapped yourself to an expert and leapt off of a plane to see the landscape rapidly change from an outline to a clear image of what's below? Skydiving and bungee jumping are extreme adrenaline sports, and whether or not you've done them before, offer heart-pounding excitement each and every time. Plus, many places will allow tandem bungee jumping so you newlyweds can experience this excitement together.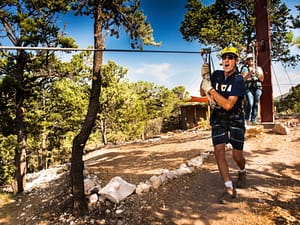 Looking for a rush that isn't quite so extreme as jumping out of a plane? Zip lining above vast stretches of forests and adjacent to waterfalls and rivers is another way to find some adrenaline while experiencing a unique view of the natural landscape surrounding you. This is another outdoor activity that you can often do tandem, soaring like birds over gorgeous stretches of nature together.
Work together and decide which of the ideas above is the most exciting for each of you and try to plan a trip where you do all of it! Depending on the time of year that you get married, you may choose to have your honeymoon right away, or you might wait a bit later to travel to your ideal destination at the best time of year. With an outdoor honeymoon adventure, you can start your married lives together in a way that you'll never forget.