There are plenty of fun camping activities for you and your family, even after the sun dips below the horizon. Camping games come in lots of styles. Whether your family enjoys active games, tasty treats, or getting to know one another better around the campfire, there are lots of fun games that can keep your kiddos entertained while glamping without the need for technology.
Fun Glamping and Camping Games for Kids and Adults
One of the great things about glamping is that you have all of the outdoor camping games that you can play as well as indoor games that you can enjoy if the weather isn't what you had hoped it would be. We've put together a list of some of our favorite family games for the next time you and your family go on a glamping trip.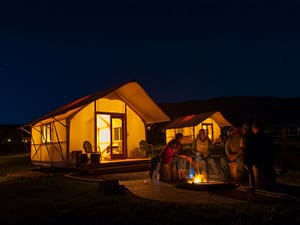 Campfire games are a great way to have the family open up and get to know one another even better. There are lots of different games that you can play to learn more about your kids and to share with them fun stories from when you were younger. 
Two truths and one lie is one of our favorite get-to-know-your family games for camping because it is simple to understand and can lead to lots of laughs. While it can be easy to fool people you've just met, it is much harder to do that with your family! It makes for an interesting way to spend your evening.
Flashlight tag is a great active game to play once the sun goes down. It is much like traditional tag where one person is it and they go around and tag others until there is only one person left: the winner! Instead of using physical touch to tag someone, the person who is it uses a flashlight to "tag" someone and then that person is out. 
For families who have active children that can sometimes get a bit too excited, this form of tag is less likely to lead to bumps and bruises.
Most kids love scary stories. There is something about telling spooky tales around a campfire that makes them even scarier than they would be in the comfort of your own home. Have everyone go around and compete to see who can tell the spookiest story. Have the family vote on the best story at the end.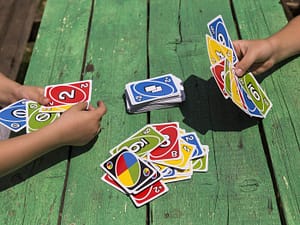 Card games are a classic that has been around for many hundreds of years. Even with the advent of technology and the related endless supply of video games, people young and old still enjoy a good old card game. 
Bring a traditional deck of cards to teach your kids some of the classics like poker, war, go fish, rummy, and old maid. Another great card game for kids young and old is Uno.
Have you and your family ever played ultimate frisbee? It's a bit like soccer or lacrosse, two sports that many of us are more familiar with than frisbee. It may seem like a challenging game to play at night when camping, but trust us, you can play a fun game of frisbee at night as a family. 
As long as there are four or more of you, break up into two teams, head to a small field, and enjoy a late-night game of family frisbee. 
In order to play frisbee at night, you're going to need appropriate gear. First, purchase a light-up frisbee disc that is visible at night. Next, light up your two goal posts, which can be as simple as using two glow sticks to make the goal's borders at each end. Lastly, assign each team a different color of glow bracelet that you wear around your wrists so you can easily identify your teammates.
Before television, smartphones, and video games, families and groups of kids would gather together to play board games. They are so fun that there are still board game fanatics young and old, with new games coming out often.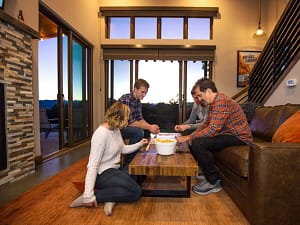 While board games may not be great for camping trips (you don't want to lose your pieces outdoors!), they are a good option when you're glamping. You can play board games inside glamping tents when it is rainy, windy, or otherwise unpleasant outside. 
If you and your family have a favorite, bring it along. You may even do a bit of shopping before you head out to find some of your favorites for when you were your kid's age and see if they love them as much as you did.
Keep in mind that many glamping sites will provide an array of board games for you to play free of charge, so call ahead to see what they have in advance.
S'mores are often the first food that kids learn to make over a campfire. The positive feelings that campfire s'mores elicit might just encourage some of your kids to learn how to make other tasty treats over the fire too.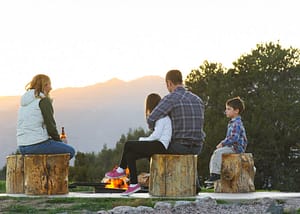 Making s'mores isn't exactly a game, but it sure is a fun activity that is great for encouraging bonding time during the night when glamping. Kids and adults alike can get excited at the idea of eating a warm, gooey, chocolatey treat with the family around a campfire. 
Be sure to bring all of the fixings with you, and set a goal during the day of finding the best sticks for roasting marshmallows. Whoever collects the best sticks for the family can win the prize of an extra s'more that night.
When you're gathered around the campfire, you can play classic road trip games like 20 questions. In this game, one person will think of a person, place, or thing and the group will have 20 guesses to figure out what that person thought of. Usually it will be something that you can see, however, there aren't that many things you can see at night, so it could be something that they saw during your daytime adventuring. By playing the question game that way, you also get to relive memories from your day together.
Duck duck goose is a fun camping game for kids and adults alike. Everyone gathers around the fire at a safe distance and one person is it. They go around the group tapping each person's head in turn and assigning either "duck" or "goose." "Goose" means that you must try to catch the person who is it before they reach your place and take it or you must become it. 
We love duck duck goose after s'mores time to run off all of that sugary energy that the kids are sure to have after a good marshmallow roasting session around the fire.
Glow Stick Ring Toss or Bean Bag Toss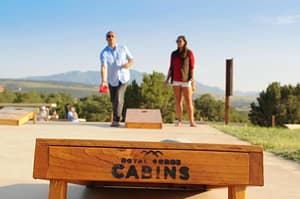 From horseshoes to skeeball to cornhole, we humans love straightforward games where we throw something at a target. But you don't need horseshoes or a whole cornhole setup to play this type of game when camping. 
One option is glow stick ring toss. During this game, you take a stick and get it to stick up from the ground. From here, you take the circular bracelet or necklace glow sticks and try to throw them around the stick. 
Another similar idea is bean bag toss where you use bean bags and try and hit a target. You can make this a simple homemade version with a few sets of beanbags and plates, bowls, or pans lined up, or you can look on Amazon for bean bag toss game sets.
When you go glamping, you can play the same outdoor games as you can when camping with kids along with indoor games like cards when the weather isn't playing along. This makes glamping activities after dark seemingly endless, allowing you and your family to have lots of fun on your next glamping trip.