The Colorado wilderness offers hundreds of miles of breathtaking scenery and endless adventures to be had. Winter is one of the most popular seasons for exploring the outdoors in our beautiful state thanks to lots of sun and plenty of quaint towns and cozy hideaways. 

With fewer crowds and wonderfully crisp mountain air, Colorado snowshoeing is an outdoor activity not to be missed. You can bring your own snowshoes with you or rent some for the weekend in the city before you head out of town.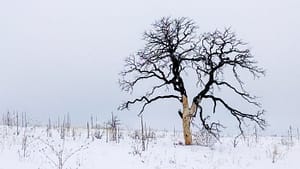 Visiting Cañon City During the Winter
Nestled against the backdrop of the Sangre de Cristo Mountains, many families and outdoor enthusiasts visit Cañon City year-round.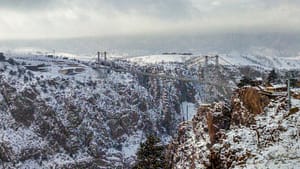 One of the biggest draws here is the Royal Gorge Bridge and Park. This park is home to the highest suspension bridge in North America, a gondola with amazing views, and plenty of fun activities for young and old alike. 
Whether relaxation, adventure, or sight-seeing have brought you here, the Pikes Peak region boasts a wide range of activities thanks to our varied landscape, cute towns, and vicinity to Colorado Springs. 
Unlike many locations for nature lovers in Colorado, Cañon City boasts mild weather throughout the year. While we're only a short drive from the mountains, our lower elevation makes it so our snow melts quickly. This leaves hiking and biking trails available for exploration almost every day of the year (weather permitting). 
This mild weather means that you'll usually have to venture out just a bit to find good snowshoeing trails. But don't let that deter you. There are multiple beautiful trails not too far from our luxury cabin rentals, located just a short drive from the Royal Gorge Bridge.
Where Can I Snowshoe Near Cañon City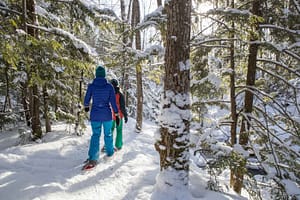 Cañon City is just about an hour from Pikes Peak, one of the state's most well-known 14ers (peaks that soar over 14,000 feet). The wilderness in this area boasts some of the best snowshoeing trails in Colorado. Throughout most of the winter months, there is adequate snowpack here that gives you plenty of miles to trek. 
Here are a few of our favorites that you can reach within about an hour from Cañon City.
We love trails that offer areas of sun and dense forest. Horsethief Park Trail starts off at a beautiful open valley, allowing you to soak in the sun's rays before cutting your way through towering sections of pine trees. 
Another perk of this area is that there are other trails here, giving you options. Try Pancake Rocks if you're looking for a greater physical challenge. It's steeper, leading to a good workout and slightly fewer people than Horsethief Park. 
There is a parking lot on Highway 67 at the Little Ike Tunnel.
Mueller State Park offers numerous trails that are fairly easy, great for beginning snowshoers or those wanting a more relaxed experience. With views of mountain peaks in the distance and miles of trails, this park is a fun way to get into nature during the winter. And if you'd like to go cross country skiing or sledding, this area is great for these wintertime activities too. 
Some of our favorite trails for snowshoeing here are the Cheeseman Ranch Trail, Rock Pond, and Outlook Ridge.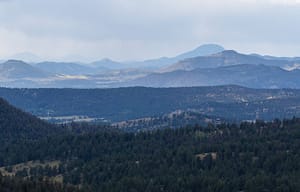 ---
Just outside of Colorado Springs is Seven Bridges Trail. This 3.7 mile out-and-back trail crosses over seven bridges and offers views of a waterfall. The snowpack is largely protected from the sun, making it a good spot even late into the spring. 
After you finish snowshoeing, you can head into Colorado Springs to satisfy the hunger that's surely grown after hours of trekking. This city to the south of Denver has lots of tasty restaurants and trendy bars to offer.
4. Florissant Fossil Beds
Gently rolling hills and plenty of sunshine make the trails in Florissant Fossil Beds National Monument a great spot for snowshoeing and cross country skiing. For help choosing the best trails for your group, make a pitstop at their visitor's center.
Every season in Cañon City brings with it unique adventures to be had. Plan ahead to be sure that you're prepared to take advantage of the many trails that snake through the Pikes Peak region. If you want to try out snowshoeing, we recommend bringing your own gear to be sure that you have what you need.