Every day across the United States, new glamping spots are popping up, ready to provide a unique experience to guests that want a combination of nature and comfort unmatched by camping or hotels alone. 
This is great news for those of us who want the thrill of the outdoors…but still want the luxury of a good night's sleep, and the convenience of not having to lug everything around with us when we travel!
From the beach to the mountains and the east to the west, you'll find wonderful glamping destinations sprinkled throughout our scenic country. In this article, we've chosen nine of our favorite glamping sites across the U.S.A.
1. California Glamping: Ventana Big Sur, an Alila Resort
Big Sur is hands down one of the most beautiful landscapes in the country. You will find outlooks where blue waves crash against the shore adjacent to giant redwood forests, ideal for both campers and glampers alike. 
Ventana Big Sur offers picturesque glamping tents surrounded by the redwood forest, with abundant beautiful day-trips available in the region to explore more stunning scenery. Plus, their Canyon Glampsites are tucked away from everyone else, accessible only by foot, allowing for the ultimate in privacy and luxury.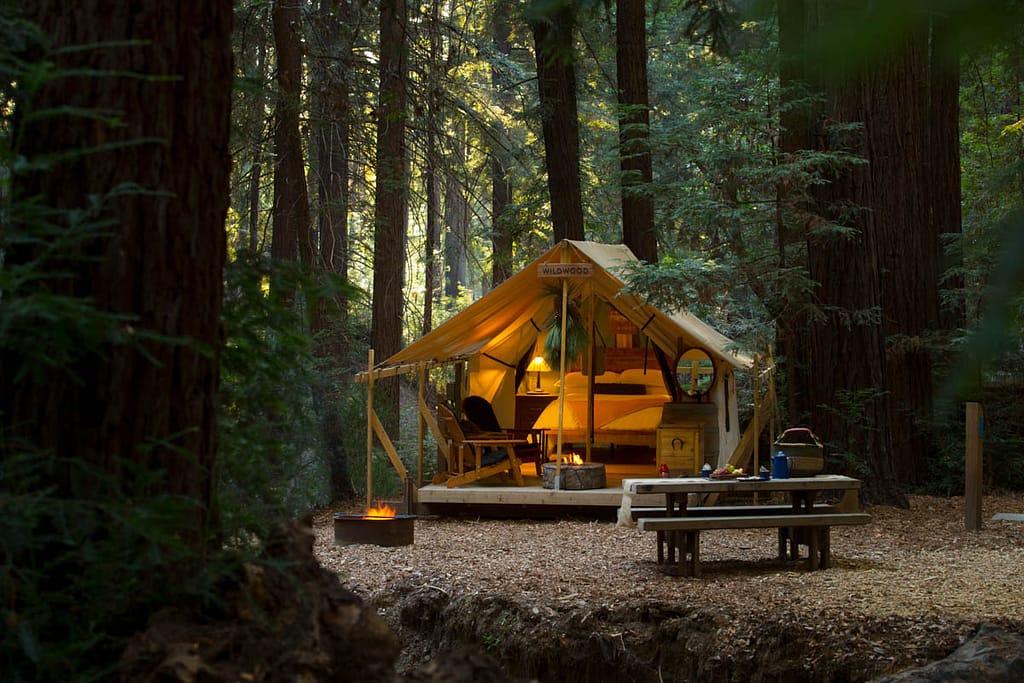 2. Safari-Inspired Glamping in Wimberley, Texas
You don't have to travel all the way to Africa to enjoy a similar experience thanks to a unique glamping experience found in central Texas. 
Sinya on Lone Man Creek elevates you over a safari-like landscape, where guests can enjoy a glamping retreat for 2, ideal for couples needing a romantic getaway. Here you'll find activities, a hot tub, and climate control to make your stay fun and luxurious.  
3. Glamping in Colorado: Royal Gorge Glamping Tents
Nothing beats Rocky Mountain glamping. With rushing rivers, deep canyons, panoramic views, and abundant wildlife, this rugged mountain wilderness is second to none. 
Royal Gorge Glamping tents are the epitome of glamping luxury and an ideal location. You're a short drive from the Royal Gorge Bridge & Park, which houses the highest suspension bridge in the USA, and world-class rafting great for beginners and experts alike. Not to mention the panoramic views of mountain ranges from your own glampsite front porch.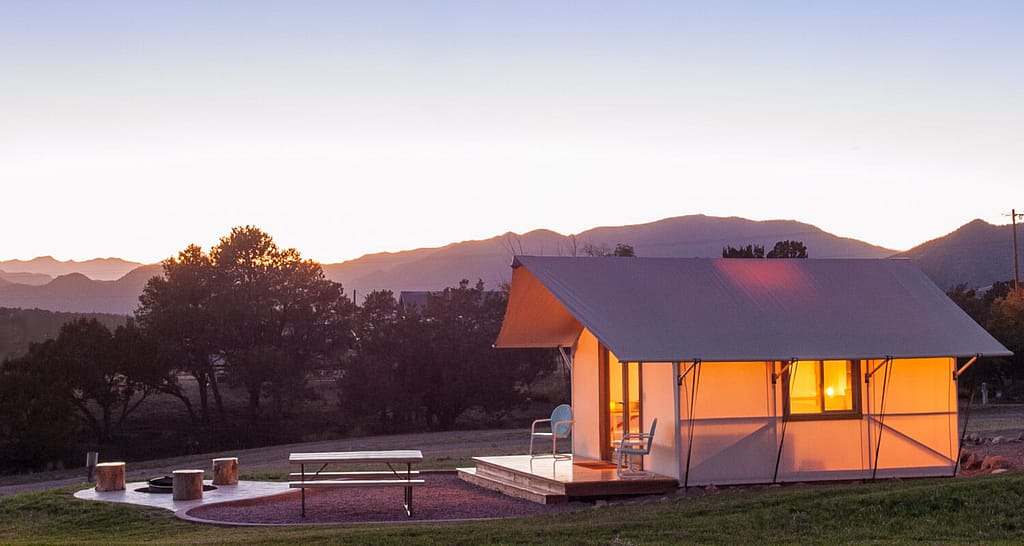 4. Northeast Glamping in South New Berlin, New York
Winters can feel long and cold in New York, particularly in Manhattan where the skyscrapers rob the sunlight from the people bustling about below. But once spring hits, the landscape changes and people leave the city to have some fun in the great outdoors. 
Only three hours from Manhattan is Gilbertsville Farmhouse in South New Berlin, New York. Spacious, luxury glamping tents are set out across farmland, with woodburning stoves in each cozy space. 
On the property you'll find volleyball, hammocking, and pond access. Just a short drive away in Gilbertsville you can enjoy one of the quintessential activities of New York: apple picking.
5. Wyoming Glamping: Fireside Resort in Jackson Hole
If you want a glampsite that you can enjoy at any time of the year, try Fireside Resort in Jackson Hole. Rather than a tent, they offer tiny homes with quaint firepits and sitting areas in your private outdoor space. 
From here, you can explore hiking and biking during the warmer months, or strap on some cross-country skis or snowshoes during winter to explore right from your front door.
6. The Yurt Experience in Zion National Park, Utah
If you have a big group that would like to explore Utah together in comradery and style, check out this spacious yurt that sleeps 9 people right outside Zion National Park. The amenities are basic, with no running water on site, but you'll still have access to bathroom facilities with hot showers a short walk away. Trust us, the sweeping panoramic views and ultimate privacy are well worth it!
7. Utah Glamping: Conestoga Ranch
Along the turquoise waters of Bear Lake in Garden City, Utah, you will find one of the most unique glampsites out there: wagons that resemble those used many hundreds of years ago by pioneers. At Conestoga Ranch you can enjoy sweeping scenic views during the day and a warm campfire at night, just at the pioneers would have done hundreds of years ago…but you will have access to a shower and bathroom!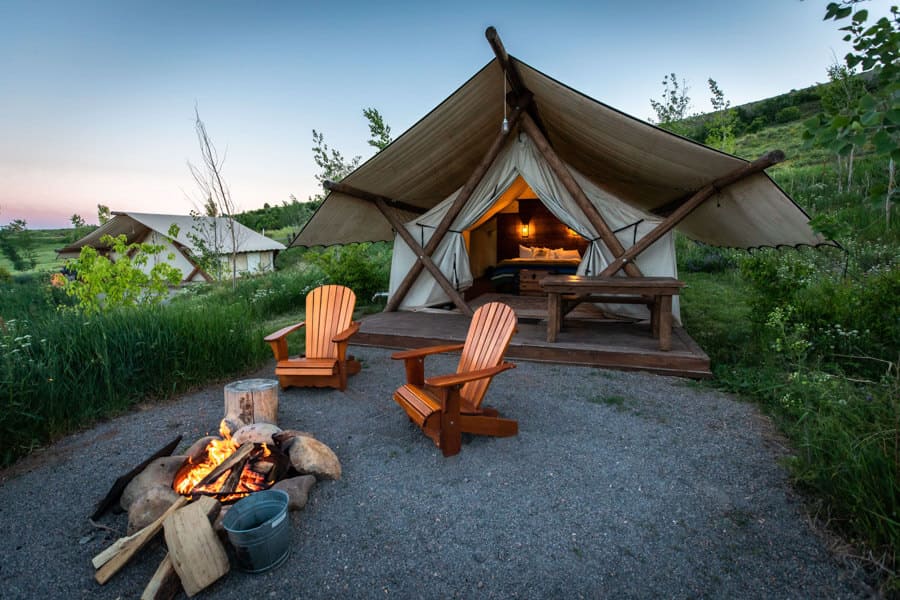 8. Glamping in Glacier National Park, Montana
Montana has vast stretches of untouched wilderness waiting for the adventurer to explore. One of the most beautiful parks in Montana is Glacier National Park.
At Glacier Under Canvas in Coram, Montana, you can sleep amongst the forest in absolute comfort. Your tent will even have a private bathroom with a bathtub for soaking in after a day spent in the woods.
9. Luxury Glamping in Paradise: Bali House and Bali Cottage, Kehena Beach, Hawaii
Enjoy uninterrupted ocean views from your private glamping cottage getaway located on Kehena Beach on Hawaii's Big Island.
During the day you can enjoy the ocean and take a lava boat tour, soaking in the sun and glorious weather. At night, enjoy your fully-equipped glamping cottage with hardwood floors and private bathrooms and kitchens. 
This glamping experience is one of the most luxurious that you will find throughout the US.
It's Time to Go Glamping!
No matter where you're looking to travel, you'll find luxury camping experiences with all the bells and whistles to keep you comfy throughout your stay. Enjoy roasting s'mores over the fire and exploring new landscapes all while enjoying the luxury that used to be saved for high-end resorts.