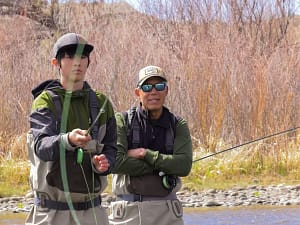 Cañon City, Colorado is a popular destination for families and outdoor adventurers. Being less than one hour from Pikes Peak and Colorado Springs, many people will add this area to their Colorado road trip. With the Royal Gorge Bridge, world class whitewater rafting, remote campgrounds, and many miles of trails, people travel from near and far to get away and have some fun. 
Another pull of this region is some of the best fishing in the state. Whether you are an expert fisherman or a dad looking to teach your kids catch and release, there is abundant wildlife found within our waters. So, where is the best fishing near Cañon City? We have put together a list of the best fishing spots for you to enjoy the next time that you're in Cañon City.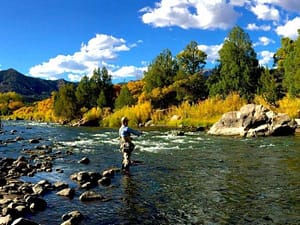 Trout are one of the tastiest fish found in Colorado's waters. The delicate white flesh needs very little in the way of seasoning to yield a meal that you won't soon forget. Arkansas River's 102 miles of Gold Medal fishing waters are a rich source of both rainbow trout and brown trout. These rich waters are found just west of Cañon City in Parkdale, and the Gold Medal categorization lasts until you reach Lake Fork. 
What exactly are Gold Medal Fisheries? They are sections of fresh water accessible to the public that produce at least 12 trout measuring 14 inches or more per acre and that also produce 60 pounds of living organisms per acre. 
What this means for you, the fisherman, is a greater likelihood of catching a big enough fish that you can take it back to your campsite or cabin to cook for dinner.
Spinney Mountain Reservoir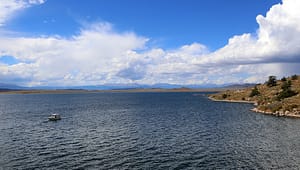 About an hour and a half northwest of Cañon City is Spinney Mountain Reservoir. Spinney Mountain Reservoir is a 2,500 acre lake that separates two sections of Gold Medal rivers. It too is categorized as a Gold Medal body of water thanks to its high concentrations of rainbow trout, brown trout, and northern pike. 
This spot is great for fly fishing, trolling, and belly boating. Plus, the surroundings are peaceful and beautiful, with plenty of wildlife surrounding you. If you like bird watching as well as fishing, this may be a great fishing destination for you.
Located a short drive from Spinney Mountain Reservoir is another reservoir rich in wildlife: Eleven Mile Reservoir. Many people will hit both spots, camping at Eleven Mile National Park and spending the day exploring these reservoirs and nearby sections of the South Platte River. 
Eleven Mile Reservoir is 3,400 acres rich in rainbow cutbows, rainbow cutthroats, brown trout, northern pike, kokanee, and carp. You can enjoy all kinds of fishing here, including float fishing and shore fishing. 
We love Eleven Mile Reservoir for family camping trips thanks to the fun you can have in the water and the miles of trails found there. Located just an hour east of Buena Vista, you can take a trip there for the scenic and relaxing Mt. Princeton Hot Springs for an after-fishing soak.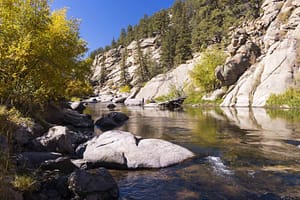 South Platte River near Hartsell, Colorado is another Gold Medal fishing spot located near Eleven Mile Reservoir and Spinney Reservoir. There are two sections. The first is 20 miles from Colorado 9 Bridge downstream to the Spinney Mountain Reservoir. The second connects Spinney Mountain Reservoir to Eleven Mile Reservoir.
Need Someone to Show You the Way?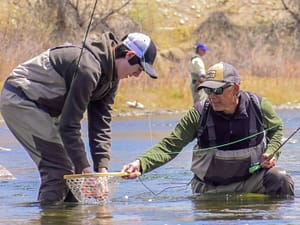 Are you new to fishing, or would you like seasoned pros to show you the best spots and share tips and tricks to help you catch the biggest fish in the water? Royal Gorge Anglers provides guided fly fishing trips along the Arkansas River, South Platte, high mountain lakes, reservoirs, and local streams. 
Even if you know what you're doing, their shop is full of the best fly fishing equipment. If you need to stock up, stop there on your way to your final fishing destination.
Where to Stay When Fishing Near Cañon City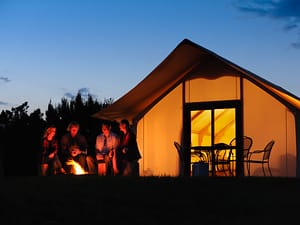 When you visit Cañon City for fishing, there are many different places that you can stay. If you enjoy camping, look for a campsite that is nearest to the areas that you're most excited to fish. For those who are looking for a bit more in the ways of comfort and luxury, try our family glamping tents. With quality linens, comfortable beds, and your own personal fire pit, you can enjoy a relaxing stay.
Some of the best fishing in Colorado is located near Cañon City. Head down by yourself or with your friends and family to take in the scenery and catch a fish that you'll be proud of. And don't forget to enjoy the miles of trails, Royal Gorge Bridge, and other local attractions while you're here.