The sun is shining, businesses are opening back up, and it's time to get out with your kids and have some fun. We've put together a list of 10 kid friendly activities to do in and around Colorado Springs.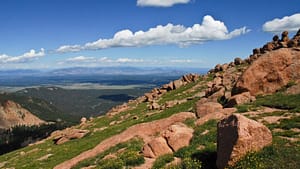 With a paved road running from its base to its peak, Pikes Peak is a wonderful spot for a day-trip with the entire family. The scenery along the way is breathtaking, with panoramic views, alpine lakes, and abundant wildlife. 
Once you reach the peak of the 14er—a mountain that soars 14,000 feet or more above sea level—visit the Summit House for souvenirs, warm hot cocoa, and a tasty donut. 
In May of 2021, Pikes Peak Cog Railway will once again take visitors on a train ride through gorgeous scenery to the top of Pikes Peak. Rather than drive yourself, make family memories as you chug your way up the mountain while the conductor shares the history of America's mountain.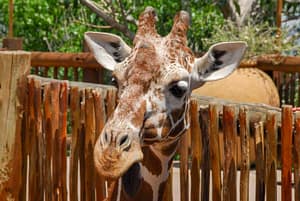 One of the most popular things to do in Colorado Springs with kids is visit the Cheyenne Mountain Zoo. This is one of very few zoos where you can hand-feed giraffes and elephants!
3. Space Foundation Discovery Center
The Space Foundation Discovery Center is a hands-on museum with interactive exhibits focused on space education. Kids absolutely love it here, with endless fascinating experiences like exploring Mars in a rover and seeing the Universe on a sphere. The museum also has a ton of resources for at-home education and entertainment.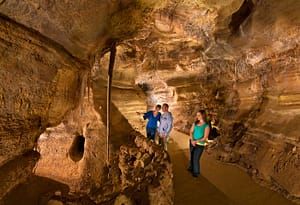 Cave of the Winds is the ultimate spot for a full day of fun with the kids. Explore the caves themselves on a cave tour and spend the rest of the day at the Cave of the Winds Mountain Park. You can go zip lining, soar above Williams Canyon on an aerial riade, or challenge your balance on Geronimo's Leap.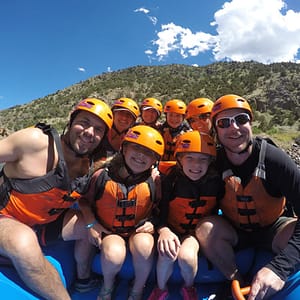 One of the fun activities that anyone who lives in Colorado must try at least once is whitewater rafting. Cañon City, located only one hour from Colorado Springs, offers some of the best whitewater in the country. From thrilling challenges to family float trips, there's a rafting trip no matter your adventure level. 
Cañon City is an excellent spot for a family vacation. After your day spent rafting, embrace the beauty and quiet of nature by staying at the Royal Gorge Family Cabins. The next morning, visit the Royal Gorge Bridge, one of the most popular tourist spots for families in the state.
6. Paint Mines Interpretive Park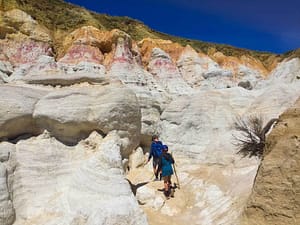 Paint Mines Interpretive Park is located an hour east of Colorado Springs. The park is unique and gorgeous, with formations that look like they've been hand painted bright colors like pink and orange. This park is rich in history, with evidence of humans dating back 9,000 years before present. The name comes from Native American history when the colorful clays were used as paint.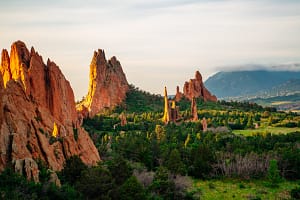 One of the most awe-inspiring natural landmarks in Colorado is Garden of the Gods. Towering sandstone rock formations look as if they sliced their way through the ground, gifting us with beautiful views and exciting rock climbing spots. For an active day, walk or bike the trails. Garden of the Gods even offers Segway and Jeep Tours as well as electric bike rentals and tours. 
Do you think your kids would enjoy hunting for treasure? If you answered yes, you need to give geocaching a try!
Geocaching is an outdoor treasure hunt where you use your phone to find a hidden container called a geocache. With Colorado's beautiful scenery, it's one of the best places for geocaching in the United States. When you go geocaching in Colorado Springs, you may end up at the Garden of the Gods, Mays Peak summit, or one of the oldest homes in the area.
9. Visit Historic Gold Mines
10. Broadmoor Seven Falls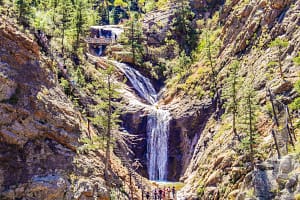 For a day of exquisite natural beauty and glute-burning exercise, visit Broadmoor Seven Falls. With 7 gushing waterfalls, this site never disappoints. With a zip line and additional trails, you and your family could spend the whole day out in nature.