The history of Colorado Springs is rich. From ancient native tribes to gold rush prospectors from the 1800s, there are countless spirits that could be haunting the area. And, according to countless first-hand accounts and expert paranormal groups, there are plenty of haunted places in Colorado Springs.
For those looking for a truly haunting experience this Halloween season, we've put together a list of the top Colorado Springs haunted places, as well as haunted tours that will take you directly to the action.
Gold Camp Road and Tunnels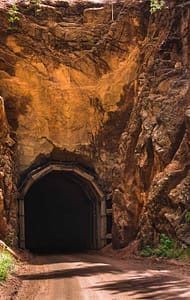 The Gold Camp Road and Tunnels is one of the most widely known haunted places in Colorado Springs. Who exactly haunts these tunnels is debated. Some believe they're workers who died in the tunnel's construction in the 1800s. Others claim the spirits are from a school bus of children who died in an accident—although there is nothing to substantiate that this accident ever happened. 
There are three tunnels. Many people claim that their vehicles have been moved when parked under the second tunnel, so you'll often find people with their cars parked waiting for something to happen. The third tunnel isn't accessible by car, but people claim to have seen odd lights and shadows when looking inside.
The Evergreen Cemetery has been a burial site since the 1860s. On the property is a small stone chapel built in 1910 that has since been added to the National Register of Historic Places. 
For many years, the chapel was used as a storage place, with maintenance workers reporting seeing dark figures. When a tour was given to a representative from the National Register of Historic Places, the woman experienced a dark force move through her body, causing her to quickly exit the premises. 
This site's paranormal activity is so well established that it was featured on My Ghost Story on the Biography Channel.
In Cheyenne Canyon you'll find the Devil's Horns rock formation. This spot is believed to be haunted by the spirit of a man who was thrown off of the formation in the 1800s by his lover due to his cheating and gambling ways. 
The history of this spot goes back much further, however. According to Native American lore, the god Manitou threw the devil off of this rock. 
Archeologists have found plentiful human remains at the base of Devil's Horns, so it's hard to say who exactly is haunting this spot. 
Paranormal activity experts can take you on haunted Colorado Springs tours. Two of our favorites are those given by Blue Moon Haunted History Tours and Colorado Ghost Tours. Learn about the local haunts by foot or be part of one of the many special events offered during the Halloween season. 
Looking for a place to stay near Colorado Springs? We'd like to invite you to try out glamping (glamorous camping) at Royal Gorge Cabins. Our luxury glampsites combine the best parts of camping and hotel stays for the idyllic Colorado getaway.