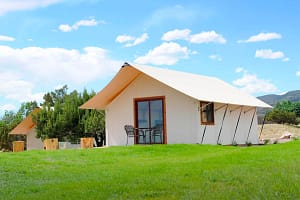 If you are traveling to a place like Colorado, you have plenty of different lodging options to choose from. Especially if your vacation is centered around the outdoors, you have to decide exactly what types of amenities you would like. Both glamping and hotels offer different levels of comfort.
As experts on outdoor travel in Colorado, Royal Gorge Cabins understands the perks and drawbacks of both glamp sites and hotels. While both lodging categories offer different levels of comfort, there are some hardlines you can follow in deciding which is best for you.
There are a lot of debates as to what exactly constitutes glamping. While one person might consider an RV to be glamping, another might think you have to stay in a tent to really be glamping. A good definition for glamping is outdoor lodging that offers more amenities than traditional tent camping – most include running water and electricity on the premises.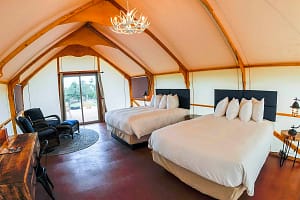 There are campgrounds with glamping tents that don't have many amenities at all, and some that offer lavish options like swimming pools and 5-star restaurants. Before you head out on a glamping trip, research your intended destination so you aren't left wanting items that would have been easy to bring along.
At Royal Gorge Cabins, our glamping tents are much like hotel rooms – but without a bathroom or running water in the living space. For our comfy beds, we offer pillows, linens, and blankets. Beyond these cozy essentials, you can plan on having electricity, Wi-Fi, and a coffee pot, as well as an evaporative cooler for the summer heat. For tent glamping, Royal Gorge Cabins has a modern bathroom and shower house in close proximity for easy access.
Is Glamping Really Considered Roughing It?
When compared to staying in a hotel, glamping is still considered roughing it to a degree. However, the real idea with glamping is to trade a few creature comforts for more time in the outdoors. In an amazing place like the Rocky Mountains, having a few fewer amenities than a hotel room is well worth the trade!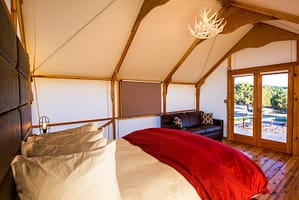 If you are glamping in a tent, don't plan on being totally pampered and having everything right at your fingertips. For example, you may have to walk to a drinking fountain or sink to get water or make coffee. Most campgrounds with glamping tents don't have bathroom facilities inside individual living spaces, so bring a robe and plan on a short walk to access these important amenities.
Many glamping locations are intentionally situated off the beaten track so guests get better access to the outdoors. While having some solitude in the mountains is one of the main perks of glamping, you may need to plan ahead for bringing food or drinks.
What Should I Bring on My Glamping Trip?
Unless you are going to a concert, most glamping operations put a large focus on the outdoors. You should plan on doing outdoor activities during the day, but also retiring to a comfortable interior space at night. At a minimum, you should bring warmer clothing to be outdoors at night, as well as a flashlight or headlamp. Bug spray is also a good idea for most places.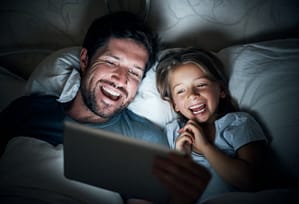 Since most glamping operations offer both Wi-Fi and electricity, don't forget your electric devices and chargers. Finally, because most glamping accommodations don't include refrigerators, consider bringing a cooler for cold drinks or food you plan on preparing.
Glamping with Royal Gorge Cabins
When you go glamping with Royal Gorge Cabins, you get nearly all the amenities of a hotel room, while also having unparalleled access to the Rocky Mountains.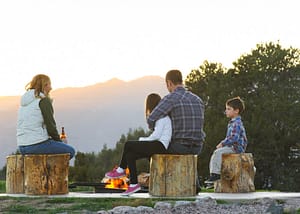 Our glamping tents have higher-end furniture and décor than you see at most operations. In fact, the beds, linens, and towels are the same high-end products used in luxury hotels. Even more, our glamping tents are impeccably clean, so you have a nice place to retire at the end of the day.
As long as there is no fire ban, we include a fire kit for each night a guest stays with us. These kits include a kindling fire starter pack, as well as simple-to-follow instructions. If there is a fire ban, Royal Gorge Cabins has a community gas fire pit so you can still roast marshmallows and relax outdoors at night.
Book a trip with Royal Gorge Cabins for the glamping experience of a lifetime!