You wake up to the sounds of the breeze rustling through the trees and songbirds chirping gleeful melodies back and forth through the crisp morning air. But this time, you don't have a neck kink from sleeping on the ground…and you have a gloriously warm shower awaiting you not far from your front door.
This is the life of glampers, the outdoorsmen (and women) who appreciate the luxuries of fluffy pillows and outlets for their electronic devices. If you want to get on-board the glamping train, this guide to glamping will provide you with the ins-and-outs of glamping.
The key to understanding glamping is all in the name: glamorous + camping = glamping. It's all about getting the best of both worlds—the adventure and nature of camping with the high-end comforts and accommodations of a luxury hotel.
Glamping takes the work out of camping while leaving the connection with nature. When you go to a glamping site, you're provided with everything you need, so it makes an outdoor adventure feasible for everyone—even those of us with kids and not enough time or space to pack everything necessary for a camping weekend.
Instead of spending their nights surrounded by walls, glampers enjoy a luxury tent where they spend their nights sitting around a campfire with their loved ones, watching the sunset while enjoying their favorite Colorado craft beer.
But unlike campers, glampers get to sleep peacefully so they can wake up bright and early the next morning without having to worry about body aches or low energy. They can even access a strong wifi signal if they need to check-in with the "real-world," or watch a movie on their laptop before tucking the kids in for the night.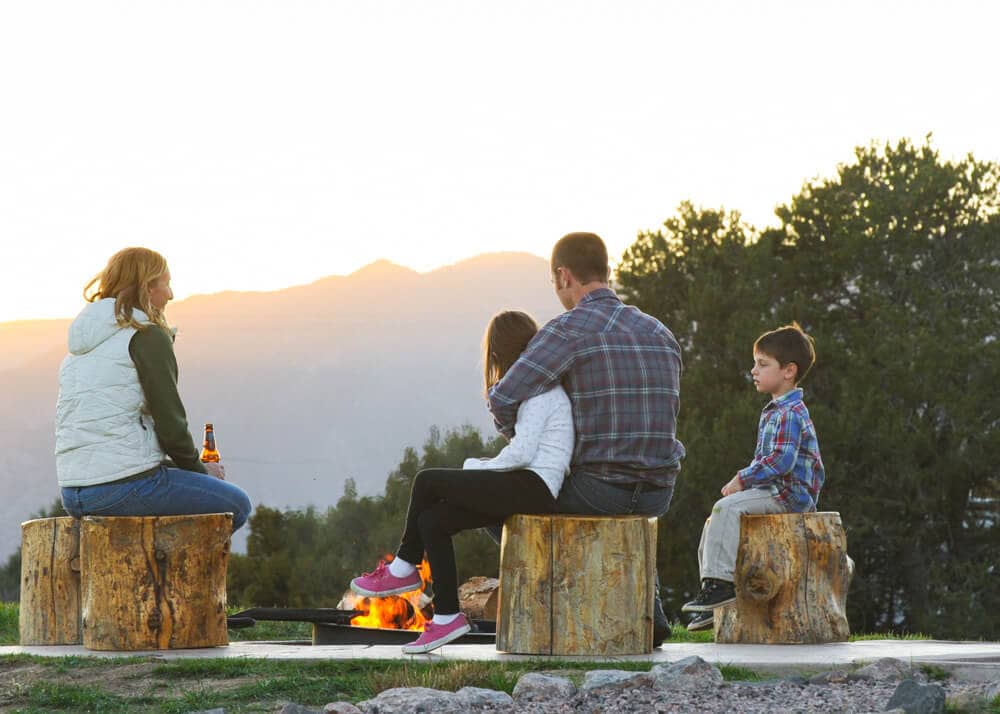 What Do You Need to Bring on a Glamping Trip?
Not nearly as much as when you go camping! The glory of glamping is in the fully equipped glamping sites with comfortable accommodations and lots of amenities. You will have everything you need to sleep well and stay warm and clean, including bedding, pillows, and towels.

Not far from your glampsite, you'll find showers and bathrooms that will make staying clean and comfy a breeze. There will even be an evaporative cooler for summer cooling so you can retreat to your tent to cool off on hot summer days.  Be sure to bring any food or drink that you'd want to enjoy over your fire pit.
At Royal Gorge Cabins, our shower house (open 24/7 and accessible with a keycard) has a spa-style shampoo, conditioner, and shower gel dispenser, so all you need is your toothbrush, toothpaste, and personal toiletries and you're good to go.
Just as with camping, you will want to be prepared for nature. This means bringing insect repellant and outdoor gear for your time spent adventuring away from the glamping tent.
How Do You Find a Glamping Destination?
The first thing you'll want to do is decide what it is that you're wanting to experience on your trip to the woods. Are you looking to go hiking, mountain biking, or rafting? Or are you looking to sight-see and visit places like the Royal Gorge and Pikes Peak?
Once you've decided on what you want to do, find a central location to stay during your trip. You can then search for glampsites in that area through Google.
If you enjoy rafting, mountain biking, or are looking to visit the Royal Gorge, our Royal Gorge Cabins glampsites are a great option. We are located a stone's throw from Echo Canyon Rafting and are just minutes from the Royal Gorge Bridge & Park. There is an incredible mountain bike trail system in the Royal Gorge area with 15 miles of trails from easy to challenging winding through the pristine region.
And don't forget to check out the coolest rock shop in the area – The Gold Mine Rock Shop – located within half a mile of the glamping tents.
What's So Special About a Glamping Vacation?
A glamping vacation is a unique way to spend a couple of nights in the wilderness. Whether as a romantic getaway or a small family vacation, glamping provides you with the comforts that you need to really get out and enjoy nature. You will get all the benefits of camping and comfort of staying in a hotel. Glamping offers:
Campfires
Watching the sunset
Star gazing
No TV to distract
Connection with nature
Luxury tents
No hauling camping equipment
Outlets and Wi-Fi
Are You Ready to Plan Your Glamping Vacation?
If you're a nature lover who appreciates a good night's rest and an easy-to-plan vacation, you were born to be a glamper. Contact us at Royal Gorge Cabins to learn more about our luxury glamping tents where you'll be surrounded by panoramic mountain views and countless outdoor adventures.