Whether you live in Colorado Springs, CO or you are interested in visiting, the area has fun vacation activities for everyone. Nestled between iconic Pikes Peak and Garden of the Gods, Colorado Springs lays claim to some of the most dramatic scenery in the western United States.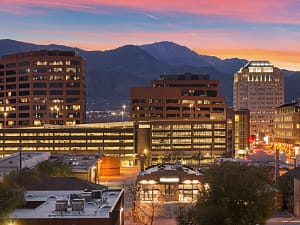 As one of Colorado's major cities, Colorado Springs also offers a good deal of urban activities. Whether you enjoy good restaurants or world-class amusement parks, Colorado Springs has something for everyone. Even more, most of these activities are great for the whole family. Not too mention Royal Gorge Cabins is just down the road if you want a break from the city.
One of the greatest things about visiting Colorado Springs is the fact you do not have to break the bank. Importantly, there are a ton of free things to do in Colorado Springs that will keep the whole family entertained. If you are interested in visiting the area, but do not have a huge budget, look at these amazing free activities.
What are the Fun Free things to do in Colorado Springs, CO?
Colorado Springs has great free activities for all walks of life. If you are interested in military history, be sure to check out Peterson Air and Space Museum. This showcases Colorado Springs' famous United States Air Force legacy, from World War II to the present day. For those people who enjoy exploring cities on foot, Colorado Springs has several free parks that offer great places to rest.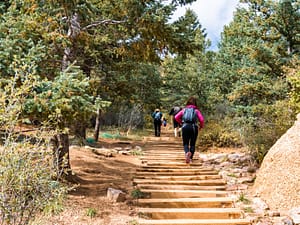 If you love free stuff and the outdoors, Colorado Springs is the place for you. To illustrate, serious athletes from around the globe flock to the Manitou Incline just west of the city. This extremely challenging trail features 2,000 feet of climbing in one just one mile, where hikers and runners complete the grueling 2,768 constructed steps. 
If you are feeling extremely adventurous, you can take a shot at climbing 14,000 ft. Pikes Peak. However, please be sure you are physically fit and properly prepared enough for the challenge.
Is Garden of the Gods Free?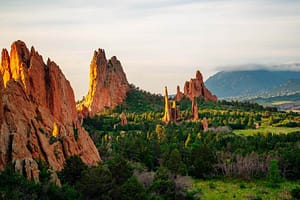 Garden of the Gods is one of the great free things to do in Colorado Springs. Even more, visitors to the park have a wide variety of free activities to choose from. Garden of the Gods has 21 miles of hiking trails that wind amidst the stunning red rock canyon. These trails can be visited independently, or as part of a guided nature walk. Finally, the park has great opportunities for photography and climbing within the red rock monoliths.
What is Colorado Springs Best Known For?
The Colorado Springs area is best known for its natural wonders and military bases. The identity of the region is intertwined with Pikes Peaks, Garden of the Gods, as well as Peterson Air Force base.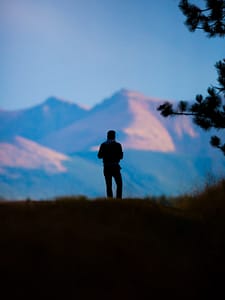 For proof of the region's fame, you do not need to look any further than the song "America the Beautiful." Around Colorado, it's a well-known fact that poet Katharine Lee Bates penned this song after summiting Pikes Peak in 1893. Today, there is no doubt that those following in Bates's footsteps share her sentiments for this amazing place. 
The most famous military base near Colorado Springs, CO is North American Aerospace Defense Command (NORAD). This base is carved out of a mountainside west of Colorado Springs and is run as an independent, underground city. 
NORAD was originally designed during the Cold War as a command center which can withstand a nuclear blast. Today, NORAD is still operational, although its functions have changed since the Cold War.
Contact Royal Gorge Cabins
You can take your family on a dream vacation in Colorado Springs, CO without breaking the bank. Contact Us to discuss trip options in this famous Colorado locale.