While most of us envision a tent surrounded by pine trees and tall peaks when we think of camping, there are many other ways to camp. Camping is simply staying overnight in nature in some sort of structure, whether that's a tent, vehicle, camper, or something altogether different. 
So, what are the different ways you can go camping? We're going to break down the different types of camping and outline their pros and cons. This will give you the knowledge you need to choose the type of camping that's best for you.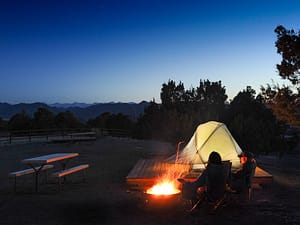 The most popular way to spend a night in the great outdoors is by driving your car to a campground or more remote site and setting up a camping tent close to your vehicle. Car camping is the go-to because it's easy and inexpensive. You can utilize an existing campsite, bring ample equipment for optimal comfort, and find a free or cheap spot. 
While a car camping trip is an excellent way to enjoy nature, there are some downsides. First, you must bring all of your gear. Next, it can take time to set up your site, from your tent and cooking equipment to a shade structure or rain protection. Finally, sleeping on the ground isn't the most comfortable place to sleep.
You can think of van camping as a more classy version of car camping. With a van, you have the option to bring camping gear to set up a tent or other camping spot, or you can simply sleep in the van itself. 
What's great about van camping is that you're able to camp in a lot of places, and you have protection if it starts to rain. However, a van can become pretty crowded, even if it's only two people sleeping inside of it. You also can't access super remote areas, so you may be near other campers.
Backpacking is one of the best ways to get out into the wilderness. Because you carry all of your gear with you, you're able to travel far from other campers, providing a wonderful respite from civilization. For outdoor and adventure lovers, backpacking is an experience that can't be beaten.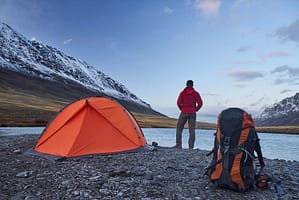 Most backpackers are tent campers, but some choose to do hammock camping instead. Hammocks are lightweight and quite comfy, but they don't provide the same level of protection as a tent.  
The reason more people don't go backpacking is that it's the most involved type of camping. You must carry everything on your back. This means investing in ultralight gear and going without items that are bulky or heavy. Plus, you're committed no matter the weather. If an extreme storm comes in, you can't hide out in your car or get to civilization quickly.
Recreational vehicles make camping comfortable. You have actual mattresses, a simple cooking setup, and sometimes a place to go to the bathroom indoors—depending on the type of RV you choose. RVs protect from harsh weather conditions and provide a home on-the-go for explorers who want to experience destinations across the country. It's this ease and comfort that make RV camping one of the most popular types of camping trips for families. 
But RVs are expensive. You can easily spend $10,000 to $100,000, with some RVs costing even more than that. And while there are a lot of conveniences, you're only able to camp in spots that accommodate RVs. Most of these cost money and are located close to other people who are camping, so it's harder to find a nice, remote camping spot.
You don't have to give up comfort or spend a fortune to enjoy a night of luxury in the outdoors. Glamping is glamorous camping, and it's the type of camping for people who love nature but also revel in the convenience and amenities that come with staying at a high-end hotel.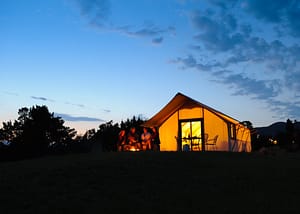 Glampsites range from lavish tents and yurts to treehouses and tipis. What you need to bring and what luxuries are provided varies from one glampsite to the next, but the comfort is almost always greater than tent camping. 
If you're planning a glamping getaway in Colorado, consider staying with us at our Royal Gorge Glamping Tents. Our glampsites have high-end mattresses and heating, private outdoor areas and firepits, and a bathhouse so you don't have to dig a hole in nature. We're located close to world-class rafting, beautiful hiking trails, and countless adventures in the Pikes Peak region. 
Bringing the whole family? Our Royal Gorge Cabins allow parents and children to have their own rooms while exploring the Colorado wilderness.
With so many types of camping, every nature lover can find something that works for them. Try backpacking for a truly wild experience, glamping for a bit of luxury, or RV camping for exploring everything our beautiful country has to offer in style. And there's always simple and affordable car and tent camping for a last-minute trip.