Whether you're a local or visiting for the weekend, there are ample opportunities to get out and enjoy the Colorado wilderness. And when it comes to outdoor adventure, hiking is the most popular activity in Colorado. 
We're going to share with you seven of the best hikes in Colorado. Each of these hikes are within reach of Denver for the day, although any of these trails are a good excuse to escape the busy city for a night or two.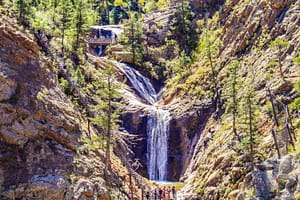 Difficulty: Easy 
Distance from Denver: 1 hour 15 minutes
Are you a waterfall lover? If so, Seven Falls is a hike you don't want to miss. It's an easy 0.8 mile down and back hike, and you have the opportunity to take in seven cascading waterfalls. Keep in mind that while the entire path is paved, there are lots of stairs that make this short trek a good workout.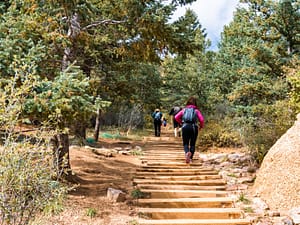 Difficulty: Hard
Distance from Denver: 1 hour 30 minutes  
The Manitou Incline is one of our favorite hiking trails in the states. It's steeped in history, as the trail itself follows the track of a railroad built in the 1800s. From the top, you're gifted with panoramic views of the state.
Be prepared—this hike isn't for the faint of heart. It gains 2,000 feet of elevation in under one mile. As you might expect from that elevation gain, the trail itself is a set of stairs that climb at a fairly steep angle. Once at the top, you'll loop back around the Barr Trail as going down the stairs is prohibited. 
This is one of the most popular hikes in Colorado, so you must make a reservation in advance.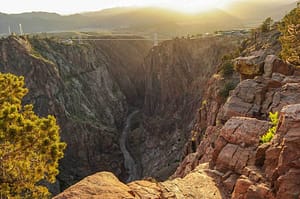 Difficulty: Easy
Distance from Denver: 2 hours 20 minutes  
Canyon Rim Trail is our favorite trail to take in the splendor of the Royal Gorge. The Royal Gorge Bridge and Park is a hot tourist spot and one of the most well-known landmarks in Colorado. But if you want to soak in the views without having to pay an entrance fee or fight the crowds, the Canyon Rim Trail is the way to do it. 
From this hike, you'll be able to see the canyon, the Arkansas River, and the famous Royal Gorge suspension bridge. The hike itself is pretty flat with a distance of 5.4 miles. The epic views happen before you've reached mile 1, so you can always shorten the hike at that point.
You'll then have a 4-mile hike back to the base, which takes around 2 hours for most groups. Combined, you want to carve out a few hours for the trip—unless you're planning to jog it.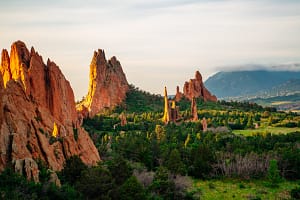 Difficulty: Easy
Distance from Denver: 1 hour 10 minutes  
Garden of the Gods is well-known for its stunning landscape. Located right outside of Colorado Springs, 300-ft sandstone rock formations pierce the ground, creating a playground for rock climbers, mountain bikers, hikers, and nature lovers. 
How much you hike is up to you. There are 15 miles of trails looping around the gorgeous rock formations, but there is also a road that loops around the national landmark. You can get out and hike short areas or park at the main lot and hike the entire park.
5. The Keyhole and Longs Peak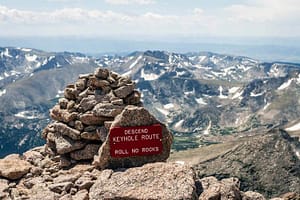 Difficulty: Hard
Distance from Denver: 1 hour 30 minutes  
Longs Peak is an iconic 14er—a peak that towers over 14,000 feet in elevation. Even though this is one of the most difficult 14ers in Colorado, it's also one of the most sought after. This challenging climb makes it one of the best hikes in Colorado for adventure lovers. And, of course, the view from the top is absolutely breathtaking. 
While you don't need to have special equipment or skills, this 15-mile hike is strenuous. We only recommend that experienced hikers head to Longs Peak—it's the most dangerous mountain in Colorado, with an average of 2 people each year dying on this challenging trail.
6. Crater Lake Trail at Maroon Bells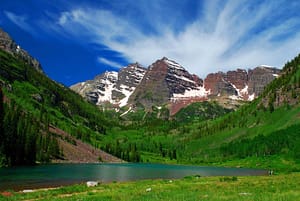 Difficulty: Moderate 
Distance from Denver: 3 hours 40 minutes  
Maroon Bells is one of the most beautiful hikes in Rocky Mountain National Park. In fact, you've likely seen photos of the alpine lake with Maroon Peak and North Maroon Peak towering in the background. During the spring, hikers are gifted with fields of wildflowers. Come fall, countless aspens have painted the landscape a vibrant yellow. 
There are multiple hikes once you get out of the parking lot, but our favorite is Crater Lake Trail. This moderately difficult trail is the best place to take in the splendor or aspens during the fall, and it offers gorgeous views of Crater Lake.
7. The Trading Post Trail at Red Rocks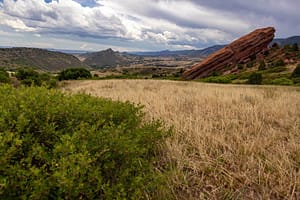 Difficulty: Easy
Distance from Denver: 25 minutes   
Red Rocks Amphitheater is one of the best music venues in the world. People travel here to see their favorite acts, with many music buffs able to recount what it was like when they first experienced a concert at Red Rocks. 
This stunning natural landscape offers more than musical entertainment—it also boasts some top-notch hiking trails. If you're visiting and want to get a close up look at the monoliths, the Trading Post Trail is an easy 1.5 mile hike that lets you soak in the majesty of the area. And if you want a longer hike, there are multiple trails that connect to this one. 
On non-show days, you can venture into the amphitheater itself for free. Climbing those stairs is quite the workout!
While there's nothing wrong with a day hike, why not get the most out of your Colorado experience? Each of the hikes outlined above is close to countless camping spots, and some near more luxurious stays. 
If you happen to travel to the Pikes Peak regions, which includes the Garden of the Gods, Manitou Incline, and Royal Gorge Bridge and Park, we'd love for you to spend your time with us. At Royal Gorge Cabins, our glampsites pair the comfort of a hotel room with the natural experience of camping for a trip you won't soon forget. We'll even help you plan the trip to take in the local sites.