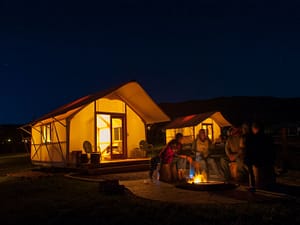 Glamping combines the stunning serenity of nature with the modern luxuries that make vacations relaxing. A glamping trip is an idyllic getaway for nature lovers who also enjoy the finer things in life. 
Also known as glamorous camping, glamping rentals are spread out across Colorado. You can take in panoramic views of the mountains, roast marshmallows on crackling campfires, and gaze up at a canopy of flickering starlight, all without having to lug your camping gear and sleep on the ground. 
If you're considering your very first glamping experience but haven't yet taken the dive, our five reasons to give glamping a try may be just what you need to get excited for a night spent in the glorious Colorado wilderness.
Reason 1: You Don't Have to Bring Your Own Gear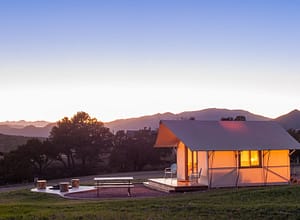 Luxury glamping getaways are the best way to explore nature without having to take care of everything yourself. When you go glamping, you'll find a picturesque and comfortable space fully set up, waiting for your arrival. You won't need to buy gear, and you won't have to set everything up—a task that's especially difficult when it's dark or rainy out. 
Additionally, many glamping hosts do more than simply taking care of the accommodations. Here at Royal Gorge Cabins, we take extra steps to create a space that is welcoming, fun, and easy-to-use. Every glampsite has their own campfire kit along with steps on how to build your fire, communal areas to play outside, and other games that we can lend to you for a fun family glamping experience.
Reason 2: You Get to Enjoy Luxury Accommodations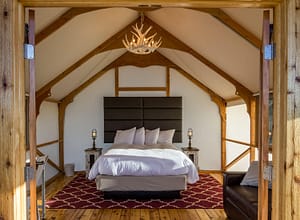 What draws people to glamping is the ideal of being pampered in nature. Most glamping tents come with bedroom setups that feel like upscale hotels. With plush mattresses, supple linens, electricity, and bathroom areas, your experience will be more akin to a nice mountain cabin than a campsite or busy hotel. There are even glamping areas that offer WiFi for those who don't like being separated from their busy city lives. 
Note that every glampsite is different. Figure out what it is that you're looking for, and find a glamping spot that meets your needs. Whether that's an area for a fire, heating and cooling, or WiFi, every glampsite offers a unique set of amenities.
Reason 3: You Can Gather Around a Campfire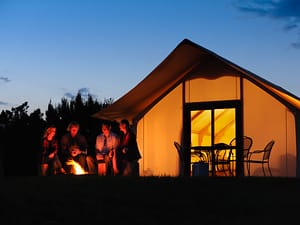 A quintessential camping activity is gathering around a campfire. Warming your feet by the cozy flames as you reminisce about your day exploring beautiful Colorado is unlike any experience shared in cabins or hotels. 
Many glampsites have a private campfire area. Don't forget to bring s'more fixings and other campfire goodies. Use aluminum foil to steam your favorite veggies and bring campfire forks for roasting hot dogs or marshmallows.
Reason 4: Glampsites Get You Out into Nature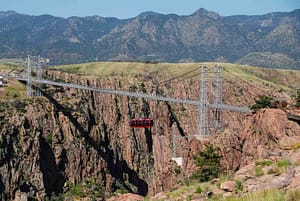 Colorado's wilderness offers vast experiences that you cannot find in the city. From adventure sports like whitewater rafting and rock climbing to relaxing times spent on a gondola or enjoying a panoramic view, Colorado has a lot to offer.
Before you choose your glampsite, we recommend deciding what you want to do and where you want to go. For those who want to try whitewater rafting or explore the Royal Gorge Bridge and Park, we invite you to stay at our luxury glamping tents just 10 minutes from the Royal Gorge. With beautiful views, luxury bedding, and cozy campfires, our glamping tents will help you stay comfortable while exploring some of the most beautiful spots in the state.
Reason 5: A Glamping Vacation Appeals to Most Everyone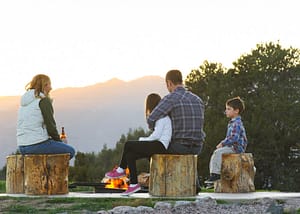 Whether you're planning a family getaway, a romantic weekend, or an adventure with your best friends, glamping has something for most every traveler. 
With private outdoor space and a campfire, camping lovers get to revel in the stillness of a night spent outdoors. And with comfortable beds, bathroom facilities, and protection from the elements, those who aren't too keen on camping can sleep peacefully. 
Because glamping is a great fit for such diverse vacation preferences, a family glamping vacation is something that the whole family can enjoy.
Colorado is home to historic sites, thrilling adventures, and pristine nature. With such diverse landscapes, our state is one of the best places to give glamping a try. 
Glamping delivers the comfort of luxury hotels with the serene beauty of camping. It appeals to outdoor enthusiasts and those who refuse to spend a night sleeping on the ground. For romantic getaways, family vacations, or adventures with friends, glamping is a new way to get everyone excited for your next trip.