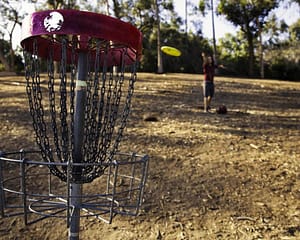 Colorado has some of the best disc golf around. From disc golf courses in well-maintained parks to those in the rugged mountains, there's plenty of variety to challenge your skills. 
Located at the base of the Rocky Mountains, Colorado Springs is a popular spot for nature lovers in the state. Whether you're within city limits or exploring the wilderness, there's something for everyone. We've got you covered with a list of the best Frisbee golf courses in and near Colorado Springs.
1. Rampart Disc Golf Course, Colorado Springs
Located in the Rampart Community Park, the Rampart Disc Golf Course is an 18-hole course with a mix of longer shots and short, technical shots, according to the Professional Disc Golf Association.
The Rampart Disc Golf Course is one of the most popular and highly rated courses in Colorado Springs. The course itself is relatively flat with sweeping views of the surrounding mountains. With little tree cover, expect plenty of sunshine.
2. Shining Mountain Golf Course, Woodland Park
Shining Mountain Golf Course has two disc golf courses, including the first permanent disc golf course at a public golf range in Colorado. One of the courses is set in a typical golf setting with undulating green hills, while the other is tucked in among the trees. With views of Pikes Peak, these courses are beautiful and well-maintained.
3. Lion's Den Disc Golf Course, Florissant
For times when you want to escape the city and enjoy some time in the woods, try visiting the Lion's Den Disc Golf Course. Set among towering pine trees, this 20-hole course consists of mostly short and technical holes. While it's a bit of a drive from the springs, the nature and lack of crowds is worth the trek.
4. Gorge Hills Disc Course, Cañon City
Gorge Hills is a Frisbee golf course set in the rugged and beautiful high deserts of Colorado. With good weather year-round, you can head there to play throughout the seasons (although it does snow on occasion, so check the forecast). At the moment, the course is receiving an extreme makeover. 18 new baskets are set to be ready by the end of April, 2020.
Visiting Colorado Springs?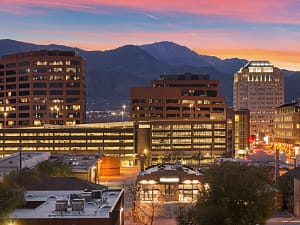 Set at the base of Pike's Peak, Colorado Springs and the surrounding region is a great spot for adventure seekers and outdoor enthusiasts. Within a short drive from Colorado Springs you can experience some of the best sites and activities that Colorado has to offer. Here are some other things you can do near Colorado Springs.
Whether you're visiting Colorado Springs or you call this city your home, there are plenty of outdoor adventures to be had. With no shortage of disc golf courses, you can explore the city and the surrounding area while testing your skills and having a good time with friends.