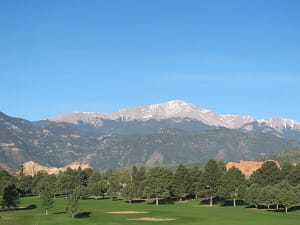 When you head out with your family to explore the beautiful scenery of the Pikes Peak region, why not use it as an excuse to golf Colorado Springs? Colorado Springs and the surrounding area have some of the most spectacular golf courses in Colorado. 


What makes Colorado golfing special is its beauty and variety. You can find tree-lined courses with undulating hills and gorgeous courses surrounded by the beauty of the mountains.  


Whether you want to take this opportunity to teach your kiddo to golf or to escape for a morning on your own, we've outlined some of the best courses near Colorado Springs that you won't want to miss on your Colorado vacation.
The Best Golf Courses in and Near Colorado Springs
The Colorado Springs region offers a lot for outdoor adventurers and sightseeing families. You can drive to the top of Pikes Peak, Colorado's most well-known 14er (mountain peaks that tower above 14,000 feet). You can raft the Arkansas River, walk across the highest suspension bridge in North America at the Royal Gorge, or explore natural wonders like the Garden of the Gods or Cave of the Winds. 
During your Colorado Springs vacation, you should take some time to explore the area's breathtaking golf courses. Colorado Springs golf has something for everyone, from newbies to avid golfers. Here are a few of our favorites.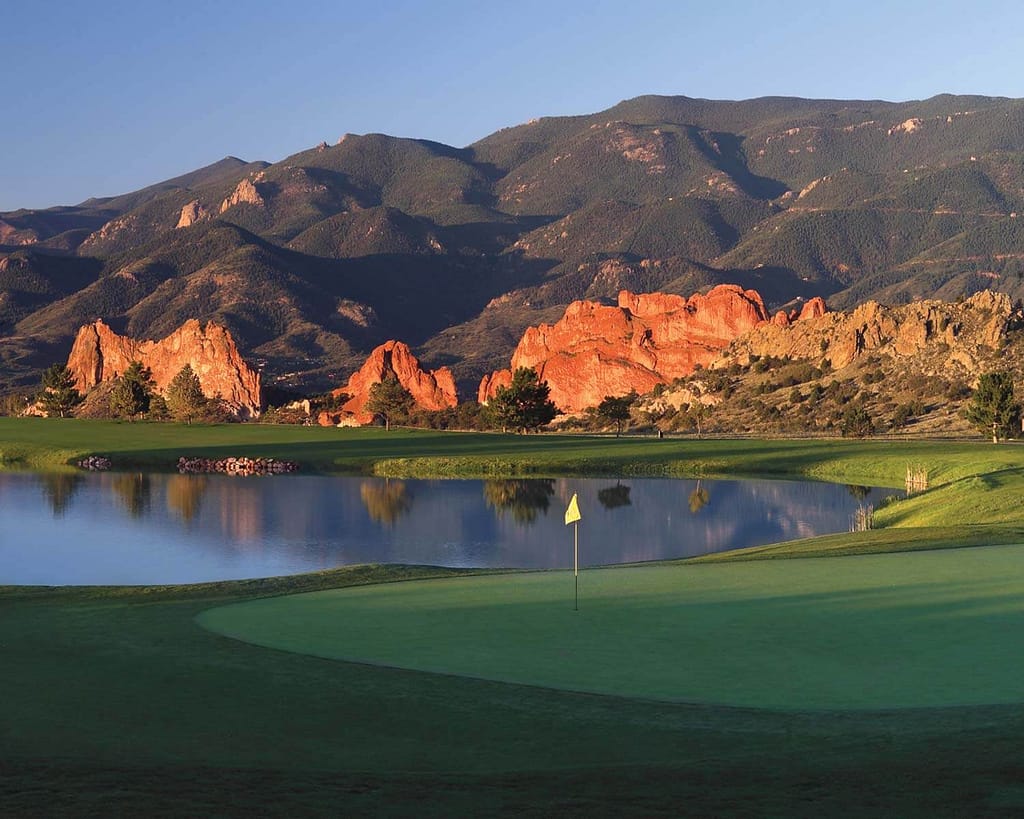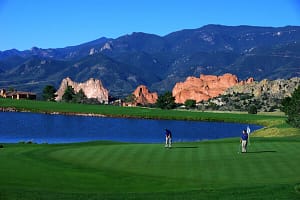 Challenge yourself on this private course boasting over 7,000 yards per 18 holes. Perched atop a bluff with incredible vistas of Garden of the Gods and Pikes Peak, the 50 year old course features lush fairways and towering pine trees. Members, guests of members, and guests staying overnight at Garden of the Gods Resort and Club can experience this picturesque and tranquil course.
Built in 1898, the Patty Jewett Golf Course is one of the oldest courses in the western United States. The moment you enter Patty Jewett, you'll be met with towering 100-year-old trees. With a par of 72, this challenging 18-hole course delivers mountain views. If you're short on time or introducing your family to golf, try their separate 9-hole course.
Four Mile Ranch Golf Club
Our favorite golf club in the Pikes Peak region is the Four Mile Ranch Golf Club. Located about an hour southwest of Colorado Springs in Cañon City, this beautiful public golf course won many accolades when it first opened in 2008. What's more, it's located just a stone's throw from the Royal Gorge, one of the most popular sites in the Colorado wilderness.
Of all the Colorado Springs golf courses, the Broadmoor Golf Club is hands down the most well-known. It has hosted PGA Cup Matches and the U.S. Women's Open. Golfers from far and wide travel here thanks to its incredible challenges and breathtaking scenery in the Cheyenne Mountain foothills.
At 8,058 yards, Antler Creek Golf Course has the 2nd largest track in the United States. Its six sets of tees make it a great course for all levels, from intermediate to pro golfers. This public golf course is set in a suburban setting, but in Colorado, that still gifts mountain views and lush green courses. Plus, it's one of the more affordable courses in the area.
Located an hour south of Colorado Springs is the Sumo Golf Village. This 7,200-yard par 72 course is set in the high desert, offering a course unlike others that you'll find in Colorado. Good weather means that Sumo is open year-round, and the Rocky Mountains and Royal Gorge are incredibly close for outings with the family.
Where to Stay Near Colorado Springs
When you visit Colorado Springs, you should choose where to stay based on the activities you're going to do. For those only exploring the city, there are many quaint Airbnbs and luxury hotels to choose from.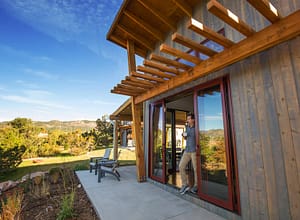 For those who want more of a nature experience, we recommend spending your time in Cañon City, home to the Royal Gorge and endless outdoor experiences. If you're traveling with your family, we invite you to stay in the Royal Gorge Family Cabins. These cabins combine luxury comfort and amenities with the beauty and quiet of Colorado's natural areas.
When you visit beautiful Colorado Springs, you're gifted with your choice of high-altitude golf courses. From high desert oasis to championship courses, there's something for everyone.