Whether you're visiting from out-of-state or looking for something to do this weekend, Manitou Springs is a wonderful spot to visit. The quaint town sits at the base of Pikes Peak, and it boasts child-friendly outings, white-knuckling adventure, and romantic experiences. 
We're going to share the best-of-the-best so you can get the most from your time in the gorgeous Colorado Springs region.
9 Places You Should Visit in and Around Manitou Springs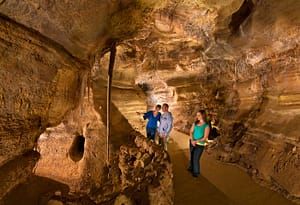 Cave of the Winds has been taking Colorado residents and visitors on cave tours for over one hundred years. Explore underground caverns and rock formations through one of multiple tours. From well-lit daytime tours to spelunking adventures where you get down and dirty in tight passages, Cave of the Winds offers an adventure great for every level of explorer. 
For a day of excitement, check out their adventure-packed outdoor park. You can try your hand at their Via Ferrata, with ladders and cables that lead to incredible views, their 3-story obstacle course, or one of their other adrenaline-pumping attractions.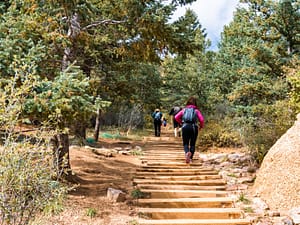 Are you ready for a physical challenge? One that even gets top-tier athletes' hearts pumping? The Manitou Incline gains 2,000 feet in elevation in less than one mile—and don't forget that you're already at elevation when you start!
Once a cable car track used to build pipelines on Pikes Peak, the Manitou Incline is now a popular spot for visitors who want to test their physical prowess. The fastest anyone's ever reached the summit is just under 18 minutes, but most hikers take between 30-60 minutes to reach the top. The views from the summit are incredible.
Castles aren't likely the first thing you envision when you picture traveling around Colorado, but our state does have some breathtaking architecture. Miramont Castle was built in the late 1800s and is now a museum with antique Victorian furnishings throughout. There's even high tea at the Queen's Parlour Tea Room.
4. Manitou Cliff Dwellings
Explore the architecture and way-of-life of the Anasazi people at the Manitou Cliff Dwellings. These dwellings were built between 800 to 1000 years ago and were moved to their present location in the early 1900s to protect the history from looters. 
Today, you can travel through the ruins and learn about how these ancient people lived. There are also two museums that further explore Anasazi artifacts and more.
5. Downtown Manitou Springs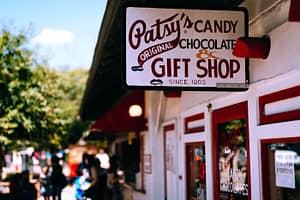 Historic Manitou Springs is idyllic for a daytime stroll, with mom-and-pop shops, delicious local fare, and historic sites to take in. It's one of our favorite downtown strips in the entire Pikes Peak region as it has a warm, fun, and friendly vibe.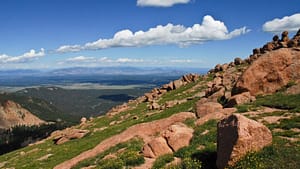 Pikes Peak is the most well-known 14er—mountains that tower 14,000 feet or higher—in the state. There are multiple ways to get to the top, with the most popular being driving yourself most of the way up, parking, and taking a shuttle from there. When you drive, you get to pull over and enjoy the views and wildlife.
Coming in 2021, Broadmoor Pikes Peak Cog Railway will start taking visitors on a scenic train ride to the top of Pikes Peak. The Cog first climbed Pikes Peak back in 1891, and soon you too can take this breathtaking ride. 
7. Manitou Springs Penny Arcade
You're probably too old to remember when arcade games cost only one penny, but you can step back into time at the Manitou Springs Penny Arcade. With over 400 arcade games costing $0.01 and up, the Penny Arcade is fun for the whole family. 
From classic to modern games, there's something for everyone young at heart.
8. Adventures Out West Ziplining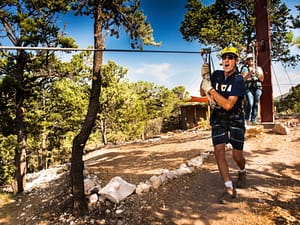 Adventures Out West takes groups on zipline tours in Manitou Springs. You only need to carve out a couple hours of your day to fly from cliffs through wooded forests with panoramic views of the area. Plus, it's fun for the whole family! 
To make your experience that much more exciting, Adventures Out West is equipped so you can try out different poses on their freestyle course. You can go upside down, relaxing on your side, or in the traditional upright position.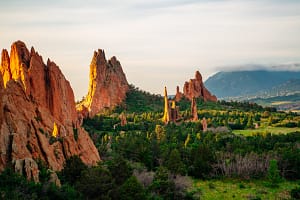 Manitou Springs is located right outside of Colorado Springs. When you're visiting this area, Garden of the Gods is worth a stop. This free Natural National Landmarks is one of the quintessential Colorado outdoor experiences. 
You can hike, bike, or rock climb as you take in the sights, which include 300-foot sandstone rock formations jutting out of the ground all around you.
We'd like to invite you to stay with us at the Royal Gorge Cabins. Located less than an hour outside of Manitou Springs and Colorado Springs, Royal Gorge Cabins offers luxury accommodations for those exploring this beautiful region. 
Our cabins and glamping tents are located just close enough to everything to make exploration easy, but far enough out to enjoy the quiet and beauty of the Colorado wilderness. We're only 10 minutes outside of the Royal Gorge Bridge and Park, one of the top tourist destinations in the State, and world-class rafting.