Outdoor rock climbing in Colorado is a year-round adventure sport. When you scale sheer cliff walls in the Colorado wilderness, you're gifted with panoramic views of a diverse and beautiful region. 
During the summer you're met with sunny skies and lush greenery. As the seasons change, climbing becomes one of the best ways to take in the multi-colored scenery as bright reds and deep yellows greet your gaze. And once winter hits, waterfalls freeze, creating a blissful playground for ice climbing challenges. 
Colorado Springs is one of the best places in Colorado for climbing. With unique rock formations within the city and endless climbing routes within a short drive, you can experience the best of Colorado. We've collected our favorite climbing spots in and near Colorado Springs for all levels of climbers to explore.
Rock climbing Garden of the Gods is a must for climbers visiting Colorado Springs. The towering, rugged red rock formations that penetrate the sky offer panoramic views to climbers. Not only does this park supply amazing climbing, but the hiking trails and gorgeous scenery can fill in the rest of your visit. 
If you're a beginner, try a group-led climbing expedition on one of the many beginner climbs. We recommend Front Range Climbing Company, a trusted leader in climbing in and around Colorado Springs. And if you're a seasoned climber, head out on your own to make your way up more challenging rock faces.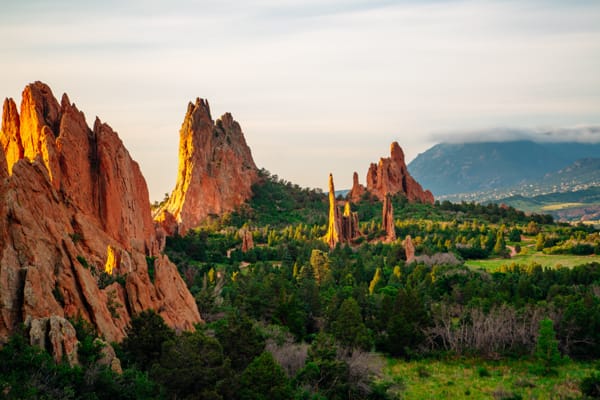 2. Royal Gorge Bridge & Park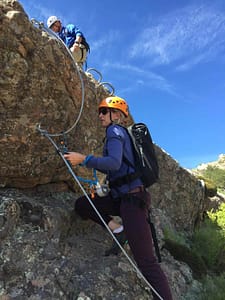 Located in Cañon City, just one hour outside of Colorado Springs, is the Royal Gorge Bridge and Park. Home to the highest suspension bridge in North America, this world-renowned park is a popular spot for families and outdoor enthusiasts alike. 
In 2019, the Royal Gorge Via Ferrata opened, allowing those 12 and up to scramble up the canyon's walls for unparalleled views of the breathtaking terrain. You don't need any experience to use the iron rungs and steel cables to attain a bird's eye view of this historic site. 
If you're able to escape the city for the weekend, give glamping (glamorous camping) a try in Cañon City. Our glamping tents combine the best parts of camping with the creature comforts that we love. Spend your evening roasting marshmallows on your campfire before slipping under the luxury covers of a plush queen mattress.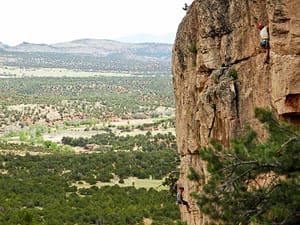 Just north of Cañon City is another incredible climbing area called Shelf Road. Shelf Road offers hundreds of routes up vertical limestone cliffs for climbers of all levels. The climbing routes start in northern Cañon City and continue north as you follow the old stagecoach route. In 1892, this route was one of the first toll roads in Colorado.  
Shelf Road is popular for climbers throughout the year. Many of the climbs are at an elevation not much higher than that of Denver. Located in the high desert, some days during the winter are warm enough to get you sweating. Although, being in Colorado, there will also be snowy days.
4. Red Rock Canyon Open Space
Red Rock Canyon Open Space in Colorado Springs is a beautiful park full of rock formations, green shrubbery, and glistening lakes. The park allows climbing on the West and East Canyon Walls only. The 130-foot rock walls are made from sandstone, with most of the routes bolted with rappel anchors. In total, there are 13 cliffs for rock climbing in the park. You can also explore multiple areas for ample bouldering opportunities.
---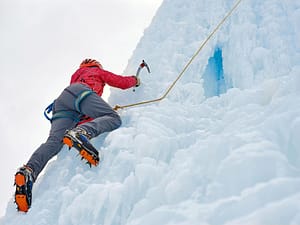 Whether you're a seasoned rock climber or an adventurous beginner, you can try your hand at ice climbing this winter season. 
For those new to this exciting sport, Front Range Climbing Company offers a private ice climbing spot in Colorado Springs. Here, you and your family or friends get to see what ice climbing is like with the guidance of professionals. 
If this isn't your first time ice climbing, we recommend heading to Silver Cascade Falls. This waterfall freezes during the colder winter months, turning into a crystalline playground for climbers. Bring your gear and take in the view of a snow-covered winter wonderland as you challenge your body and mind. Silver Cascade Falls is located in North Cheyenne Cañon, a great spot for climbing all year long.
On the few days in Colorado when outdoor climbing isn't an option, head to City Rock climbing gym in Colorado Springs. Indoor climbing gyms are a fun and valuable tool for outdoor adventurers. Here, you can learn to climb, bring your friends or family to get them excited about climbing, or come and spend a day challenging yourself. City Rock offers classes and walls for every level of climber.
Colorado Springs has many memorable rock formations for avid climbers to explore. Come winter, you can even try your hand at ice climbing, a thrilling wintertime sport. And for those wanting a nature escape, try visiting Cañon City. With glamping tents, the Royal Gorge, and Shelf Road, there is plenty of exploring to keep you busy.