The state of Colorado is famous for its rich mining legacy. In fact, Colorado was originally populated through "booms" that came with mineral discoveries, including gold, silver, and precious gems. Famous Colorado towns like Leadville, Aspen, and Durango were all founded due to the mining industry. 
For many people, visiting a rock shop is a great way to learn about and experience the rich minerals and precious gems found in Colorado. The Gold Mine Rock Shop outside of Cañon City, CO is one of the leading gem stores in the state.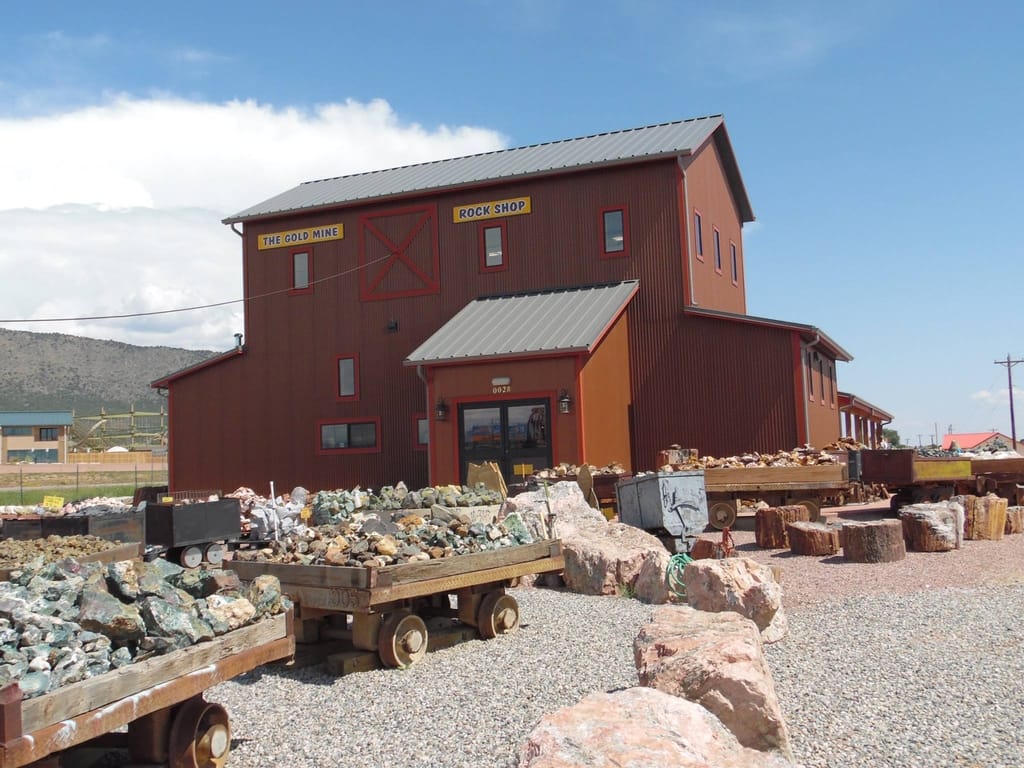 Where Can I Buy Cool Rocks in Colorado?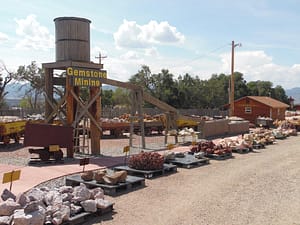 While the historic mining days of the 19th century have passed, the people of Colorado have worked to preserve the legacy of these important times. That being said, the Colorado of today is full of mining museums, historic buildings, rockhounding sites, and gem stores. 
If you are interested in learning about the rich mining history of Colorado, while also pursuing some interesting mineral specimens, the town of Leadville is a sure bet. If you decide to go to Leadville, the National Mining Hall of Fame and Museum. 
Another great area to visit for rock shopping is the Arkansas River Valley. In this incredible area, 14,000 ft Mt. Antero towers over the towns of Buena Vista and Salida. Because Mt. Antero is famous for producing precious gems like tourmaline, aquamarine, and topaz, the area has some incredible rock shops.
Can I Go Rockhounding and Mining in Colorado?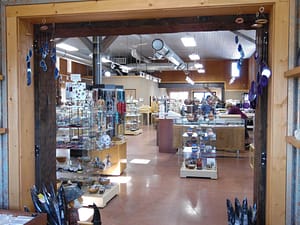 Due to the unique geologic history of the Colorado Rockies, the state is one of the top regions in the world for amateur rockhounding. There are several areas where you can visit to try your hand at mining for a day. 
The town of Fairplay, CO is located about 1.5 hours west of Denver on Hwy 285. Not only is Fairplay adjacent to the historic town of South Park, but it also has great amateur mining options. After obtaining a permit from the town, you are welcome to pan for gold on the public shoreline in Fairplay. 
Golden Gate Canyon is found just outside of Denver in the quaint town of Golden, CO. Gem hunters are welcome to search public lands in the area for black tourmaline, a precious gem held in high regard with jewelers and collectors alike.
What Kind of Rocks Can I Get at The Gold Mine?
The Gold Mine Rock Shop is one of the top gem and mineral stores in Colorado. Located just 8 miles west of Canon City, CO, the shop has a huge selection of mineral specimens and finely crafted jewelry. Whether you are interested in polished gems or raw mineral specimens, you can find what you are looking for at this famous store. 
Operational since 2001, The Gold Mine has a wide variety of mineral offerings, including sapphire, quartz, amethyst, and more. They even have a "Sapphire Shop" that focuses exclusively on precious gems and jewelry. 
Whatever your interest in Colorado gems and minerals, the Gold Mine will steer you in the right direction.
Contact Royal Gorge Cabins
At Royal Gorge Cabins, we are proud of our rich mining heritage in Colorado. Please Contact Us to learn more about gem hunting in the state.