Eco-Glamping: Eco-Sustainable Alternatives
When many of us think about protecting the environment, we tend to only consider our daily routines. From making a conscious effort to recycle or utilizing reusable shopping bags, these little changes can have a real positive impact on the world. Yet, you can also apply eco-friendly initiatives when planning your next vacation. 
If you go glamping in nature, you can protect the environment while traveling. Eco-glamping offers a luxurious camping experience, where you can soak in the beauty of the outdoors, while also being sustainable. After all, if you want to continue to enjoy an incredible place like the Rocky Mountains, we all have to do our part to protect the environment.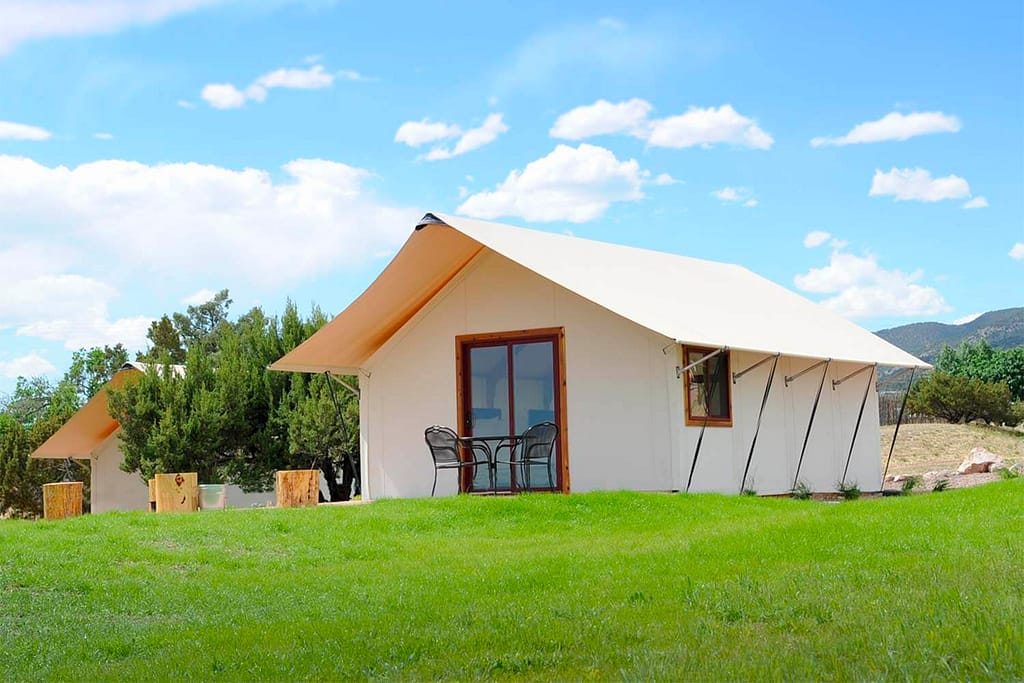 Is Glamping More Eco-Friendly than a Hotel Stay?
From building materials to resource consumption, glamping is better for the environment than staying in a hotel. In fact, studies show that hotels are responsible for "1% of carbon emissions" that occur globally each year. When you consider this figure on a worldwide scale with industries like agriculture and manufacturing, your travel choices also impact the environment. 
Since glamping in nature doesn't require large buildings, campgrounds use far fewer total resources than traditional hotels. Even better, with tent glamping, you can still get many of the comforts of home, while also doing your part to protect the environment.
When assessing eco-friendly travel choices, you must consider that far more raw materials go into building a hotel than a campground. When hotels are constructed, contractors use a sizable amount of lumber, concrete, plastic, and other precious resources. Not to mention the fact that hotel construction sites are entirely bulldozed before being covered with buildings and parking lots. 
Since glamping tents are far smaller and simpler structures, they require far fewer construction materials than hotels. At Royal Gorge Cabins, our glamping tents are stick-framed and constructed on concrete slabs and wooden decks. We also designed the tent locations so that no trees had to be cut down, and use only drought tolerant landscaping and grasses. This allows glamping tent lodging to be less intrusive on the local ecosystem.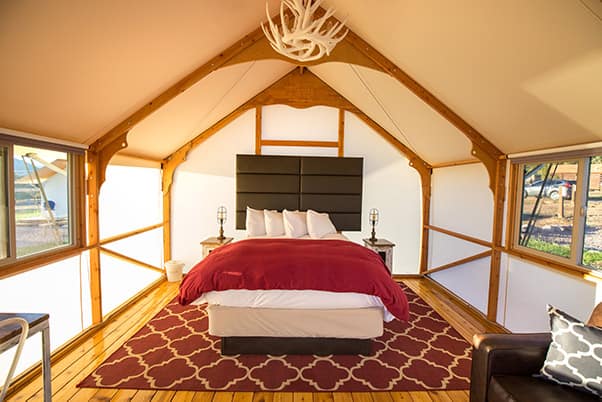 Hotels consume large amounts of power in order to keep indoor environments comfortable. Needless to say, continually heating and cooling a 50,000 sq ft hotel requires a good deal of fossil fuel consumption – which contributes to global warming. Not to mention the fact that people tend to use much more electricity with electronic devices when staying in hotels. 
Our glamping tents at RGC require minimal resources. In the summertime, we use evaporative coolers that draw small amounts of electricity to keep tents cozy. At night, the cool mountain air makes for a comfortable and pleasant sleeping experience. The only time our tents require any heat is during the cooler shoulder seasons, although these periods are quite limited.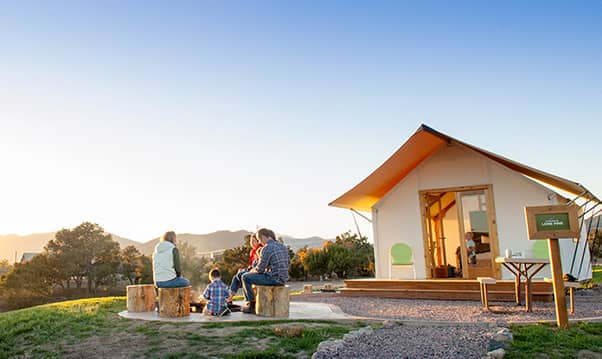 Especially in places like the American West, water usage is a major concern among environmentalists and government agencies alike. If you look at arid regions like Colorado, Arizona, and Utah, a lot of planning and debate goes into water rights for residential, commercial, and agricultural use. 
Due to factors like showers, swimming pools, and laundry service, hotels consume far more water than your average campground. At Royal Gorge Cabins, we don't have bathrooms or running water in glamping tents – a fact that encourages guests to be more water conscious. Yet, the central shower house has everything you need to stay clean and comfortable while here.