There is no denying that Colorado is an outdoor lover's paradise. The Rocky Mountain State features the most 14,000 ft peaks in the country, as well as several famous national parks. The state also has over 40 designated wilderness areas.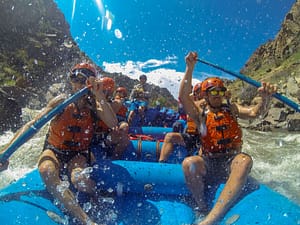 Colorado is also a world-class rafting and kayaking destination. River enthusiasts from around the globe flock to Colorado to test their might against the Arkansas River, Colorado River, and more. For those looking for a truly immersive wilderness experience, overnight rafting excursions offer a great way to combine boating and camping. 
If you want to experience the very best of Colorado, Royal Gorge Cabins recommends going on a multi-day float on one of our iconic rivers.
What Should I Pack for an Overnight Rafting Trip?
Packing for an overnight rafting journey is intimidating. Not only do you need to bring all the stuff needed for rafting, but you also must pack your overnight supplies. In addition, you must remember all the gear needed to deal with the rapidly changing Colorado weather.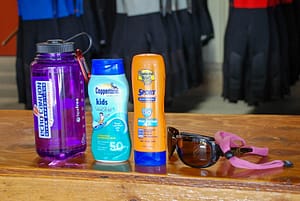 At a minimum, Royal Gorge Cabins recommends the following personal items for an overnight rafting excursion:
Ziplock baggies (for phone and valuables) 

River shoes (sandals or tennis shoes) 

Towel 

Rain gear

Sleeping bag & pillow 

Headlamp 

Water bottle & mug 

Warm clothes for camp 

Sun protection (hat, sunglasses, sunscreen)
Please note, the above gear list could change with different seasons and conditions.
Where is the Best Place for an Overnight Rafting Trip in Colorado?
There are several great places to experience an overnight rafting excursion in Colorado. In deciding what trip is best for you, please consider such factors as experience levels, trip goals, and the length of the excursion.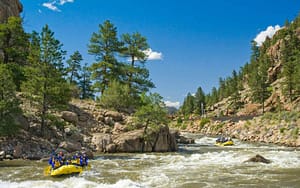 The Arkansas River near Buena Vista, CO offers a plethora of opportunities for overnight rafting excursions. There are several locations you can raft on the Arkansas River; these vary in difficulty from Class I – Class IV rapids. Located just 2-hours from Denver, this area offers a remote mountain experience in a reasonably short drive. You can experience camping on the Arkansas River in Colorado with 1–3-night length trips. 
Please bear in mind, overnight rafting adventures are more than leisurely floats, they are full-on camping trips. When booking your rafting outing, always consider that you will not be getting off the river at the end of each day.
When is the Best Time of Summer to Plan an Overnight Rafting Trip?
The water flow in the rivers of Colorado is greatly influenced by the mountain snowpack. Early summer is the best time to book a whitewater adventure in Colorado. Because this is the time of year when rivers are most full of snowmelt. At Royal Gorge cabins, we recommend planning your Colorado rafting trip from May – July.
What is Provided on an Overnight White Water Rafting Colorado Trip?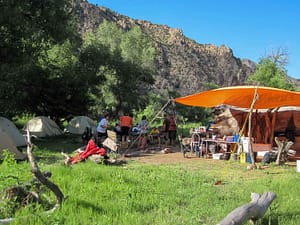 It is customary for your outfitter to provide the camping equipment for overnight rafting journeys. These items will vary slightly with trip duration, weather conditions, as well as your chosen rafting season. 
Overnight raft guide services generally provide: 
Tents 

Sleeping cots

Camp chairs 

Radios or Satellite phone (for emergencies) 

Life jackets 

Water & beverages 

Dry bags

Stoves, plates, & silverware

Food & snacks

First aid & emergency supplies 
Before you head out on an overnight rafting excursion, double-check with the guide service to ensure they have everything you will need. This is a great way to avoid overpacking or going under-prepared.
Contact Royal Gorge Cabins
Contact Royal Gorge cabins to plan a memorable multi-day rafting adventure in Colorado.