Colorado Winter Cabin Rentals
Snowy peaks and crisp mountain air bring people from all across the country to the Rocky Mountains during wintertime. Stay warm as you enjoy the unique winter landscape of the Royal Gorge as you warm your toes by the fire during your winter cabin vacation.
Winter Cabin Rentals in Colorado
Our luxury winter cabins in Colorado are well equipped with modern amenities to make your stay in this winter wonderland comfortable. Each cabin has a dual-sided fireplace that you can enjoy in the living room or on your private patio. There is also WiFi and cable that you can use on our flat screen TVs to stay in and watch a movie.
Just ten minutes' drive you will find the Royal Gorge Bridge & Park, which is open year-round (weather permitting). You and your loved ones can spend the day exploring the Royal Gorge, taking in the panoramic mountain views. Some of the best new trails in Colorado are located just minutes from your cabin, so just let us know if you would like tips on the best winter hiking trails nearby.
There is even a local winery, the Winery and Holy Cross Abbey, where you can spend a romantic afternoon sipping delicious wines with the one you love.
Warm your feet by the fire before you make your way to a luxury king bed to cuddle until the sun rises above the surrounding mountain peaks. Our Single King Cabins are equipped with modern amenities that will keep you and your loved ones cozy and warm during your winter cabin vacation.
Each Single King Cabin can comfortably sleep up to 4 guests, 2 adults in the king bedroom and 2 children on the sleeper sofa in the living room. With flat screen TVs, WiFi, and cable, you can stay connected even as you're surrounded by the quiet solitude of the Colorado mountains.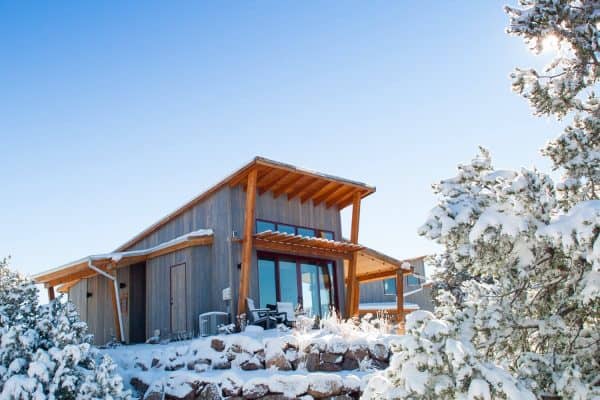 Our Double King Cabins are large enough for a family of 6, allowing you and your family to spread out after a day of Royal Gorge adventures. With three flat screen TVs, 2 king beds and a sleeper sofa, 1.5 baths and a kitchenette, it has what you and your family need to enjoy your winter cabin vacation.
Winter Cabin Rental Details
Each of our cabins offers:
King bed(s) with luxury linens
Indoor / outdoor fireplace
Private patio
Spa style shower
Kitchenette
Flat screen TVs with cable
Free Wi-Fi
Pricing and Availability of Our Winter Cabin Rentals
Our Single and Double King cabins are available 365 days each year. Winter is a popular season thanks to holidays and snowy adventures, so be sure to book ahead to secure your spot. Our pricing and minimum night stays vary depending on demand.
Our Colorado winter cabin rentals start at $355 to $419 per night