Camping trips in the rain can be just as fun as those in good weather. With proper preparations, you and your friends can listen to the pitter-patter of rain while you play games, gather around a campfire, and enjoy the lack of crowds that comes with rainy weather. 

Here are our top six tips to help you stay warm, dry, and comfortable when camping in the rain.
When people ask me, "how do you stay dry while camping in the rain," I tell them that there's one tip that's more important than all of the others: find the right spot to set up camp.  You want to be at the rise of a hill or other incline so that any rainwater drains away from your tent. Make sure you're not too close to a lake or river if you think it might rain.
2. Don't Forget the Tarps and Tent Footprint
Camping trips in rainy weather can be an enjoyable adventure, so long as you carve out a space in nature where you can be dry and comfy. To do this, bring more tarps that you think you'll need, and a tent footprint if you have one. 
A footprint or a tarp cut to the right dimensions helps to keep your tent floor dry. Just be sure that no tarp is sticking out from underneath the tent as this can have the opposite effect, funneling water right where you don't want it. 
Your extra tarps can be strung up between trees, both to cover your tent and to create a living area to eat and hang out. We recommend using a tarp on the ground underneath your rain protection for a dry spot. This gives you a nice area to hang out while it downpours. And if it's a super rainy day, a layer of plastic or another tarp on the floor of your tent is a good idea.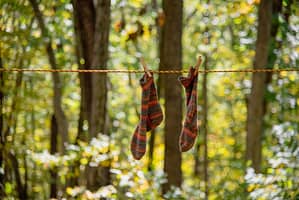 When you get back to your campsite after exploring the outdoors and you're damp, you don't want to drag that wet gear into your tent with you. The best thing to do is to string a clothesline underneath a tarp and hang your clothes to dry. This keeps your hangout area and tent dry and comfortable.
4. Keep Firewood and Kindling Dry
The last thing you want is to not be able to start a fire. When it's wet and chilly out, a nice campfire is a must. We recommend placing your firewood, kindling, matches, and other fire-starting materials in waterproof plastic bags. If you aren't sure how to start a fire when it's wet out, check out Eureka's post about how to start a campfire in the rain. 
Another option? Invest in a propane fire pit. This removes the uncertainty of getting a fire started in wet and humid weather.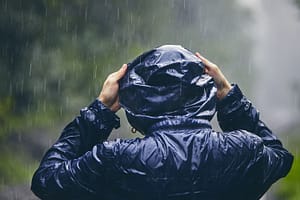 It's not only your camping setup that should be set up with rain in mind. Wearing the right clothing stops you from becoming wet and cold when you go on hikes or leave the site for other reasons. 
We recommend a rain jacket, waterproof pants, and waterproof boots. For your base layer, avoid cotton. Cotton is notorious for getting and staying wet. Instead, opt for warm wool socks and synthetic clothing. You should also pack an extra set or two of dry clothing, just in case.
Those little hand-warming packets are quite the luxury when you're camping in bad weather. You can place them in gloves or boots when the thermostat drops, keeping your extremities nice and cozy.
So long as you're prepared, camping in the rain can be quite a fun experience. But if you'd rather ensure your cozy comfort during a weekend of bad weather, consider planning a trip to a glampsite or cabin.
We'd love to invite you to stay at our luxury Royal Gorge Cabins or romantic Royal Gorge Glamping Tents the next time you want to escape to nature during bad weather. You won't have to worry about staying warm and cozy with our opulent mattresses and interior heating.