There is nothing quite like camping in the Colorado wilderness. The fresh air, twinkling starlight, and memories that come from gathering around the campfire are what outdoor lovers' dreams are made of. 
But if you're new to camping, there's a lot to think about before you head out into nature. Follow the below Colorado camping tips to make your camping experience memorable for all the right reasons.
Tip #1: Bring the Right Gear
One of the last things that you want when you and your family are out in the middle of nowhere is to discover that you forgot something crucial—like matches or ample drinking water. Here's a list of camping gear and other essentials that will make your trip comfortable. 
A tent:

Make sure that your tent is large enough and that it has all of its parts before you head out. I once unpacked my tent and headed out camping, only to find that my friends who borrowed it had left the poles out when repacking it. Always better to double-check! 

Sleeping equipment:

Sleeping bags are a must, but you may also want a sleeping pad or inflatable mattress. Blankets can be helpful for sitting around the fire. 

Cooking gear:

Decide if you'll be cooking over a fire or on a camp stove. From there, bring the right equipment to start a fire (such as a butane lighter or waterproof matches), pots and pans, dishes, and utensils. 

Food and water:

Bring plenty of food and water for your whole group, as well as coolers for food storage. It's best to err on the side of caution and bring extra water as not every campsite has water. You'll need it for cleaning dishes, cooking food, drinking water, and brushing your teeth.  

Campground setup:

A canopy, tarp, camping table, portable chairs, and hammocks are all convenient to keep your site nice and comfy. 

Lights:

Flashlights, headlamps, and lanterns are necessary once the sun goes down. 

First aid kit:

A first aid kit is necessary just in case of any unforeseen accidents.

Cleanup supplies:

Environmentally-friendly soap, sponges or wipes to clean dishes, paper towels, and trash bags allow you to stay clean and easily take your trash with you. 

Insect repellant:

Mosquitos come out at dawn and dusk, so be prepared.

Weather gear:

Even if you check the weather and it looks good, be prepared for cold and rain, especially in the Colorado mountains. Extra jackets, blankets, hats, gloves, ponchos, and umbrellas may come in handy. 
Tip #2: Prepare to Have Some Fun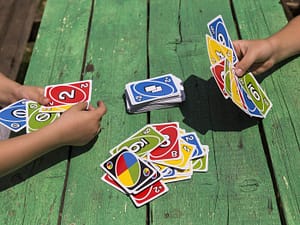 For many, spending time in nature is all of the entertainment that they need. But that doesn't mean that some games or outdoor equipment can't be a good addition to your camping trip. Frisbees, cards, mountain bikes, and anything else that you enjoy are good to bring with you. 
This tip is particularly important if you're family camping with kids. Having favorite games on hand can keep them entertained as you relax underneath the stars.
Tip #3: Plan Activities Ahead of Time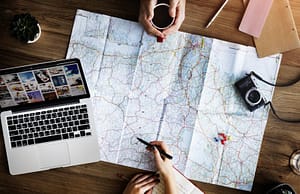 Depending on where you're camping, you may not have access to cell service once you're at your campsite. This can make planning hiking, biking, fishing, or other activities challenging. Before you head out camping, figure out what kinds of things you want to do during the day. Map them out beforehand so that you aren't left unsure of where to go or what to do during the day.
Tip #4: Know Your Environment
When traveling to a new area, or even when revisiting an old favorite, it pays to do some research before you go. This is the basic first step to camping safety.
See what stores are in the area:

Knowing what stores are near you allows you not to overpack. Maybe you will eat out at local restaurants or buy firewood at a nearby gas station. And knowing whether or not there is a local outdoor store like REI can help if you find that you've forgotten something. 

Research current events:

Is there a fire ban where you're going? Have there been any recent mountain lion or bear sightings? These types of local news allow you to be prepared and know what to expect. 
Check the weather: The weather in the mountains is often much colder than it is in the city. Do your research and check the weather forecast ahead of time. But be prepared for poor weather, even when it's not in the forecast.
Opt for Glamping If You Want Something More Luxurious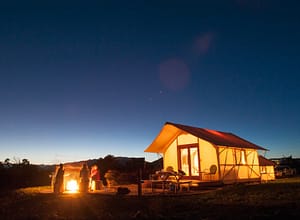 Planning a camping trip requires ample preparation. And if you aren't a regular camper, merely buying all of the supplies for a weekend trip can be overwhelming and expensive.
If you want to experience the best of the great outdoors without having to prepare for all of it yourself, try glamping in Colorado. Glamping (glamorous + camping) sets you up with a safe and sturdy tent, comfortable bed, showers with warm water, and more.