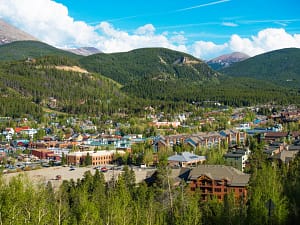 Colorado road trips gift friends, family, and solo travelers with amazing scenery and unforgettable experiences. We've put together a short guide on how to plan your Colorado road trip as well as our favorite attractions around the state.
Part 1: How to Plan Your Colorado Road Trip
There is no one road trip that fits every need. In order to plan the right road trip for you, ask yourself the following questions.
Are you looking for a week-long or month-long excursion where you have time to visit the far corners of the state, or are you limited to a long day or weekend? How much time you have at your disposal plays a central role in where you ought to travel.
2. How Much Do You Want to Drive Each Day?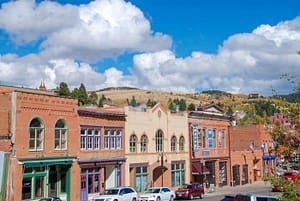 Scenic drives are one of the gifts that come from taking your personal set of wheels on a statewide adventure. But as anyone who has driven across the country can tell you, driving can become exhausting. And what's a reasonable time spent in the car for one person might seem like a lifetime to another. 
Ask everyone in your party how long they're looking to spend in the car versus site seeing, hiking, or enjoying other outdoor experiences. You might be fine driving 4, 5, or 6 hours each day, but you want to find a consensus to help you plan a trip that appeals to everyone.
3. What Do You Want to Do or See?
Lastly, you want to choose the places in Colorado that you want to see. There are historic areas, outdoor adventure meccas, quaint mountain towns, and beautiful hot springs that you'll need to choose from. Pull up Google maps and see which ones you can fit in with the amount of driving that you plan to do.
When you visit, don't forget to think about the weather. If one of your bucket list items is to ski Vail or Aspen but another is to go rafting at the Royal Gorge, you'll want to plan a separate summer and winter trip.
Part 2: Our Favorite Attractions in Colorado
We've collected our picks for the top unforgettable spots across the states. We've included their cardinal direction and distance from Denver to help you choose places that easily fit together in one road trip.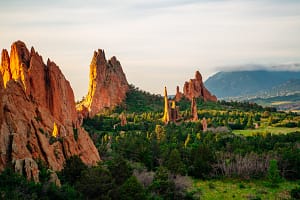 From Denver: 1.5 hours S
Garden of the Gods is a national park with stunning sandstone rock formations jutting from the ground. Located in Colorado Springs, it's a popular spot for locals to go hiking, mountain biking, and rock climbing. And with its location just an hour and a half south from Denver, it's a great starting point for a road trip to the south or southwest.
Great Sand Dunes National Park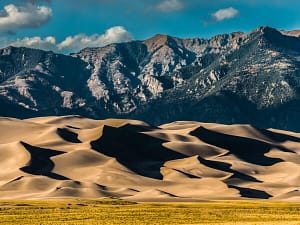 Colorado is home to the highest sand dunes in North America, and they're one of the most breathtaking sights in the state. Nestled up against rugged mountain peaks, the Great Sand Dunes National Park is not to be missed if you're exploring this part of the state. During the early summer, enjoy splashing in the creek that flows through the dunes before hiking to its highest point.
Royal Gorge in Cañon City
The Royal Gorge Bridge and Park is home to the highest suspension bridge in North America. And it's located in Cañon City, an outdoor lover's dream. With world-class whitewater rafting, year-round pleasant temperatures, and endless trails for biking, hiking, and ATV or Jeep tours, Cañon City is a great spot located not far from Colorado Springs and Pikes Peak. 
If you come during the summer, try our luxury glamping tents for a cozy night spent underneath the stars. It's a great intermediary between those looking for a posh hotel experience and a peaceful camping trip.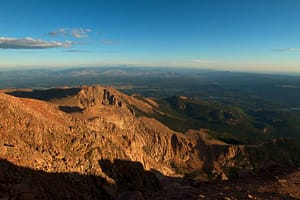 From Denver: 2.5 hours S/SW
The view from the top of Pikes Peak is spectacular, as is the scenic drive from the base to the peak. The winding road up this 14,100+ ft mountain delivers views of alpine lakes, wildlife, and the surrounding region. Once you reach the top, enjoy a donut and hot chocolate as you warm up and take in the sights (the peak can be 40 degrees cooler than the base!).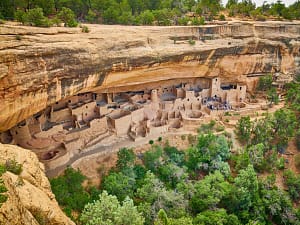 From Denver: < 8 hours SW
Mesa Verde National Park is the only UNESCO World Heritage Site in the state, and one of only 24 across the entire United States. The Mesa Verde cliff dwellings provide visitors a glimpse into what Colorado was like centuries before European arrival.
This site includes nearly 5,000 archeological sites from when the Ancestral Pueblo people called Southwestern Colorado home, between 600 and 1300 CE. The landscape and history are truly breathtaking and something you won't soon forget. 
From Denver: 1.5+ hours W
Most of Colorado's famous ski slopes, including Keystone, Breckenridge, Vail, and Aspen, are located to the west of Denver up the I-70 corridor. These mountain towns are full of activities year-round. You can go hiking during the spring, summer, and fall, watch the leaves change in fall, or hit the slopes during the fall, winter, and spring.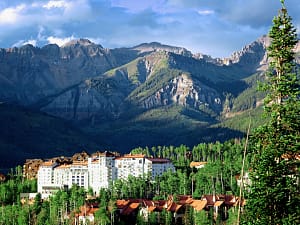 From Denver: > 6 hours SW
Telluride is a mountain town with luxury resorts, world-class skiing, and renowned outdoor adventures. Because it's so isolated from Denver, even locals rarely get to experience its quaint beauty and charm. Look out for music festivals and other events when you plan your trip. And don't miss Telluride's fine dining, if you're into that sort of thing.
Rocky Mountain National Park
From Denver: 1.5 hours NW
Rocky Mountain National park is a slice of wilderness heaven located just a stone's throw from Denver. With more than 100 peaks towering 11,000 feet in altitude and the highest continuously paved highway in North America (Trail Ridge Road), it's a must-see for western road trips from Denver.
Colorado is a state full of gorgeous mountain peaks and rugged terrain that offer an amazing canvas for road trip adventures. Plan ahead to ensure that you make the most of your Colorado vacation, learning about our state's history and reveling in its natural beauty.