Family Glamping in Colorado
Double Queen Glamping Tents
Glamping is a great balance of rustic outdoor charm and comfortable sleeping conditions, suitable for the whole family. Rather than lug along everything you need to make a campsite for you and your family, we take care of the essentials and more so you can relax and enjoy your glamping family vacation.
Do you and your family love nature, but also love comfy beds, bathrooms, and climate control? You may be more of a glamping family than a camping family. Glamorous camping, or glamping, is a more realistic, and enjoyable, way to bring your family into nature. Glamping with kids can be much easier than camping, thanks to all the equipment that you get to leave at home!
The beautiful Colorado mountains offer the views and attractions, while we make it easy to enjoy with in-floor heating, evaporative coolers, and comfortable queen pillow top mattresses. After a day filled with fun and adventure you and your family can enjoy family luxury camping, where you can sit around the fire pit that you didn't have to build from scratch!
Our family glamping tents even have Wifi and outlets, so feel free to bring your laptop and watch a movie before hitting the hay.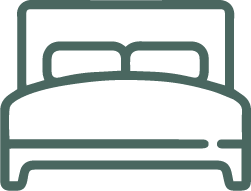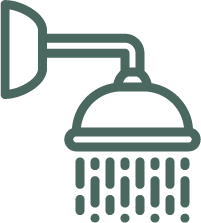 24 Hr Access to Shower House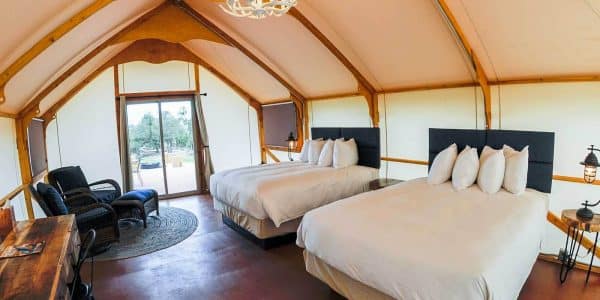 Family Glamping Tent Details
Our family luxury camping tents are made with quality materials with your comfort in mind. You will find high quality canvas walls, screened windows, and beautiful concrete floors. They are available to rent April through early October.
Pricing and Availability of Family Glamping Tents
Family glamping in Colorado is not available year-round, but from April through early October. Our pricing and minimum night stays varies throughout the year depending on demand. Glamping with kids is becoming popular here in Colorado, so we encourage you to reserve your tent early to secure your spot!
Each tent has multiple electrical outlets and free Wi-Fi access, so do bring laptops or other electronics that you would like for enjoyment. Coolers are also recommended to keep your food and beverages cool. And don't forget bug spray!
Leave your sleeping bags, pillows, and towels at home, we take care of all of this for you. You don't need to lug all of this around on your glamping family vacation!
Things To Do on Your Family Glamping Vacation
When you're not family luxury camping, it's time to take your kids to explore the best of what the Colorado wilderness has to offer. Our glamping cabins are just minutes away from the Royal Gorge, the highest suspension bridge in America. Here you can enjoy all sorts of fun family entertainment.
There are many other things to do in this area as well. Just let us know if you would like any tips and we can help you plan a great vacation for the whole family.
And if all that sightseeing tires you out, take a break from cooking and dine with us at the 8 Mile Bar & Grill just across the road. Our family vacation cabins are just right in size and the location can't be beat. It's your vacation, and we can't wait to be the host for your family's adventures.